Spring is an ideal time to enjoy nature and celebrate being outdoors. It is also an excellent season to travel. If you will be working as a travel nurse this year, there are many destinations that will make you want to pack some vacation gear along with your stretch scrubs, stethoscope and nursing shoes. The following are guide for travel nurses  for cities that are among the most popular places for medical professionals who want to care for patients, all while enjoying a little sightseeing. These destinations are picturesque, fun and have serene springtime weather.
1. Washington, D.C.
The nation's capital is a hotspot destination in spring for its beautiful flowers and mild weather. Thousands of tourists also flock to the city for its infamous annual Cherry Blossom Festival. Since you will set up your spring assignments ahead of time, you may have a chance to grab a hotel room before they fill up. Your employer may also provide you with a stipend to stay in a rental home offsite, which could make it easier for you to find an affordable place to live while you work.
In addition to the gorgeous cherry blossoms, there are plenty of other sites to see when you are off. Many of the national monuments and memorials are free or low-cost to visit. You may even get a discount on museums if you show the facility that you are a healthcare worker. Outdoor restaurant patios provide safe and scenic places to eat and drink. Other places to visit in Washington, D.C. in spring include riverside walking areas and winding nature trails that will inspire you to exercise. Research online for upcoming events and festivals before you arrive at your hotel or rental property. Your employer or recruiter may also be a resource for interesting excursions.
2. Tampa, FL
Located on Florida's Gulf Coast, Tampa is a large and bustling city. Its population includes a mix of families, working adults and people over 65 years old. The state of Florida has a large senior population, which means a variety of hospitals, clinics and care centers need qualified and dedicated nurses to care for aging patients. This means that no matter where you work in this region, you will make a difference in your role. When you are not on-call, you will also enjoy the beaches, food and culture that the area has to offer. One of the country's most famous coastlines, Clearwater Beach, is just minutes from downtown Tampa.
You can also visit the shores of Fort de Soto Park, one of the top-rated family beaches in the United States, along with white sand parks like Honeymoon Island State Park and Egmont Key State Park. Tampa has professional sports teams, which means you can take in a football, hockey or baseball game in the evening or on the weekend. Sample some of the state's best burgers, seafood and Cuban sandwiches at the Tampa Riverwalk, go fishing in the bay or on the intercoastal waterway and try your hand at water activities like paddle boarding and kayaking.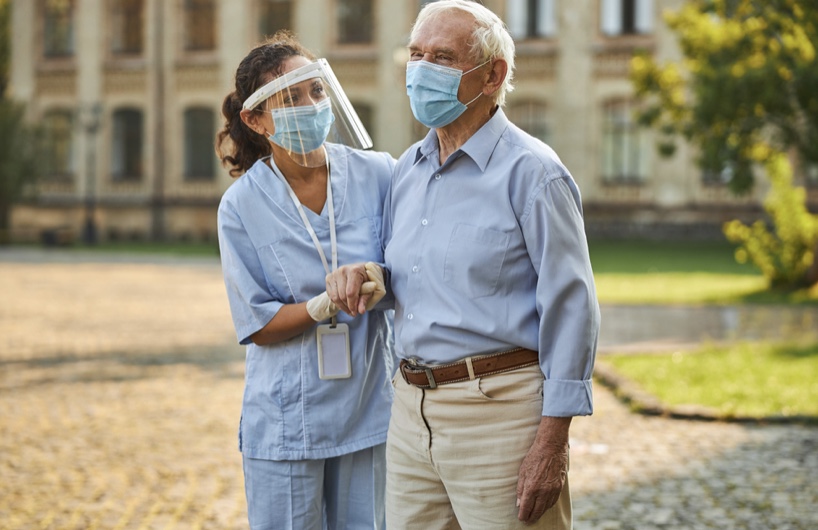 Source: Svitlana Hulko /Shutterstock.com
3. Boston, MA
The city of Boston has plenty of nursing opportunities. It is also a popular tourist destination in spring. While it can be a little chilly in the mornings and evenings, the weather is perfect for exploring in the daytime. Baseball season begins in spring, which means you will be lucky enough to catch a game at historic Fenway Park. You will also enjoy nature's finest flower displays as you walk past the historic Boston Harbor. When you need a bite to eat, seasonal dining events will allow you to enjoy the city's best diners, cafes and gastropubs.
Experienced travel nurses will recommend Boston pizza tours, citywide bike tours and the vibrant sights of the city's outdoor art scene. Other recommendations for spring in Boston include the self-guided Women's Heritage Trail, the many festive Patriots' Day celebrations and  visiting the area's many museums. When packing for your travel nursing, think in layers. You will need scrub jackets, pants and short-sleeved tops to complete your shifts. If you plan on dining at one of the upscale restaurants, bring a cocktail dress or an outfit with a jacket. Comfortable shoes are essential, both for your nursing shifts and walking outdoors.
4. Charleston, SC
Charleston is one of the most memorable cities in the southern United States. It is also a gorgeous destination to visit in the spring. Temperatures in Charleston in the spring range between 60 and 80 degrees Fahrenheit, which means you will be comfortable when you spend time outside. Once you get your assignment, book your lodging as quickly as possible. Hotels and rentals book up fast during this season.
As you plan your leisure activities, be sure to check out the Festival of Houses and Gardens. This renowned walking tour will help you to become acquainted with the city and its famous flowers. Almost every other activity in Charleston is perfect for springtime weather, including visiting historic Fort Sumter, relaxing at Joe Riley Waterfront Park and soaking up the sun at nearby Folly Beach. Shop until you drop on King Street or get lost for a few hours on Sullivan's Island. No matter what interests you, you will find a way to unwind and recharge on your days off.
5. Austin, TX
Texas is another state that is always in need of qualified healthcare professionals. Austin's vibrant sounds and sights make it a great place to work as a travel nurse. When you visit Austin in spring, you will see wildflowers in bloom all over the city. Zilker Park is an ideal place for recreation, boasting over 300 acres of grassy picnic areas and spring-fed swimming holes. The city's residents will tell you that its dining is second-to-none, which means you will have no problem finding delicious Tex-Mex and barbecue.
If you are staying for a few months, you will benefit from Austin's downtown Farmers Market. Fresh produce, flowers and coffee will help you to stay energized and inspired during your work week. Enjoy a variety of food trucks during your lunch break and then head to the Texas Hill Country for a weekend of relaxation. If your employer gives you preference on where to stay, ask about hotels in East Downtown, Travis Heights and the Zilker neighborhood. Music lovers will enjoy the Red River Culture District, while those who are working close to the Capitol building will have plenty of amenities to choose from in the downtown district.
Source: Stephen Orsillo/Shutterstock.com
Enjoying Spring as a Travel Nurse
When you work as a travel nurse, every season has something new that is worth discovering. Planning your leisure activities in advance can help you to ensure that you see all of the best springtime sights. Book your hotel or rental property as soon as possible so you are able to commute comfortably. This step is not crucial enough as Travel Nurse Salary is quite high, so you can afford any kind of hotels and booking you wish. Research the most popular restaurants for both dine-in and takeout just in case you do not want to cook during the week. No matter where you stay, take some time to smell the flowers. You never know when you will return to your spring destination.