Traveling with your pet can be a stressful experience, especially traveling by car. To anxious dogs, this can be even more challenging. Depending on the length of the trip and the size of your pet, you may have to find a boarding facility or enlist someone in your social circle to take care of them while you are away.
Even if you take your anxious dog for a drive, his motion sickness may ruin your travel experience. You don't want your anxious dog to decant his stomach on the front or the back seat, making it miserable for you and your dog. Here is what you can do to give your anxious dog the best car travel without any motion sickness or phobia.
Travel Tips to Treat Your Anxious Dog
If your dog is a pup, then there is a high chance that his ear structures are not well developed, and responsible for body balance. There is a possibility of overcoming travel anxiety as they age, but it's not true for every dog. Here are some tips for you to treat your dog's anxiety on the trip.
Give Your Dog Treats
When you try to convince him to get in a car, and he successfully manages to do it, give him a treat. Rewarding him with a treat will motivate him to do more and cooperate with you during the process. Bring on some of his favorite toys to make the place more friendly and comfortable for him.
You should also provide him with his favorite things to help keep him calm. This could be something like a weighted blanket or his favorite stuffed animal. All dogs love to be swaddled, even your fur babies! It's like a hug for them!
According to Midss, CBD oil is an additional option to treat him which will aid him in calming down your dog's car anxiety. By following the suggestions from MIDSS, you can choose a CBD oil that is best for your dog's anxiety and health.
Also, some may find classical music or anti-anxiety medication helpful to keep their pet relaxed, however, it is important to consult with your vet before giving any.
Train Him to Associate Car Ride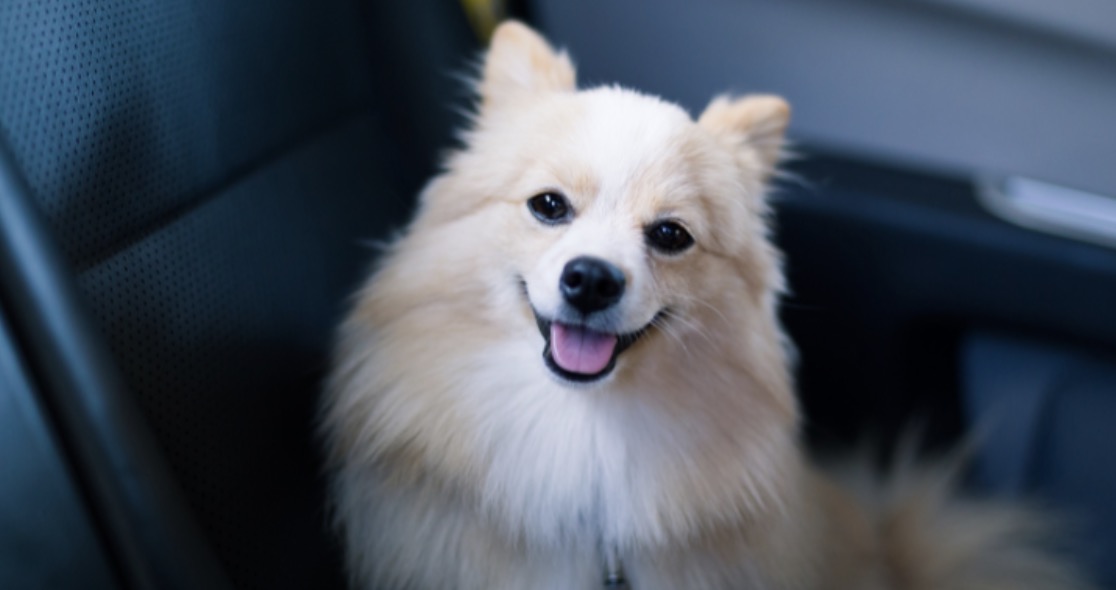 When it comes to car travel, ensure that your vehicle is well prepared, the parked car in a safe location, and you should keep in mind that walking distance should be limited to just a few minutes.
If your anxious dog has some previous experience with car rides that takes him to fun destination he doesn't want to visit, you need to train your dog.
To ensure the safety of your dog while on a road trip, you should start by making small trips to get him used to car rides. Gradually increase the length of your trips and make sure to keep the car door closed and secure him with a seat belt harness, as this will help keep him safe in case of sudden stops.
Once the leash is secure, you open the car door to allow fresh air and interesting smells to enter the car. This will help your pup become more used to being in car travel, and help the car feel less foreign to them.
Look for Motion Sickness Symptoms
If car rides are making your dog anxious, it is evident that he may show some symptoms. If your dog suffers from motion sickness, he may start to over-lick his body, pant, whine, or shake out of fear. This indicates that your four-legged friend is having some trouble while traveling.
Give Your Dog Simple Excercise
Counter conditioning and desensitization exercises can also be used to help your dog get accustomed to being in a car and reduce car sickness. Starting by giving him a simple series of exercises in the car. For most dogs, it's important to reduce car motion sickness. Try to change his bad experience and let him relate it with his fun and happy times. Cheer him up with positive reinforcement.
Take A Dog's Carrier
For small dogs, consider using a booster seat to ensure the pup feels secure and is more comfortable during the ride. Try to make it a comfortable place for him by placing mats, rugs, or his favorite toy. Putting your dog in a tight dog vest will give him that same feeling of comfort. This will help him relax while traveling. If he enjoys the scenic view outside, you can allow him to watch out. Otherwise, let him stay comfortable in his carrier.
For larger dogs, it is important to make sure the car can accommodate their size!
Carry Medicines to Help Your Dog With Travel Anxiety
You can carry over-the-counter medicine for your pup. Give your anxious dog a CBD oil treat to calm down his anxious mind. You can also rub some of the oil over his skin to give him a sense of good massage. He will enjoy his owner's touch, and CBD oil will help his anxiety to calm down.
If your pet is suffering from severe travel anxiety, or your dog's anxiety is extreme, talk to your vet and let him suggest the best possible medication for your pup.
Don't Overfeed Your Pet
When you have planned to take your anxious dog for a road trip, try to feed him less. For many dogs, overfeeding and overwatering can stimulate their anxiety which may cause nausea and vomiting during the trip. If it's a long road trip, plan the route in a way that your pet gets frequent breaks to shake off his travel anxiety.
Conclusion
Traveling with your pet adds up to the joy of the journey. You can't leave your anxious pet alone for a long time. It's better to take them with you. They may suffer a series of anxiety while traveling, showing symptoms of anxiety. Try to fill him with a more positive experience so that he can enjoy the ride with you.
Traveling with an anxious dog can be a challenge but fun. Let's try the tips and tricks above to reduce your dog's travel anxiety & make the experience more enjoyable for both you and your pup.