A staircase is a very frequently used section of your house, but it's often overlooked in terms of decoration. The journey from points A to B  on your staircase must be appealing. It is an essential part of the house, and it should also connect with the decor of your home.
Fortunately, you can do so much to give a makeover to your staircase. Here are some surprising ways to decorate your staircase.
#1 Attractive Wall Art
While climbing the stairs, your peripheral view is always at the wall. So, Make the heads turn with outstanding wall arts on the staircase wall. For more ideas, you can check interesting wall decor ideas for staircase.
You can give a new look to the staircase wall with bright, sunny, and vibrant canvases.  You can hang three to four framed canvases. The blend in sleek, minimalist, unframed canvas also looks good. The unframed canvas goes with the modern scheme.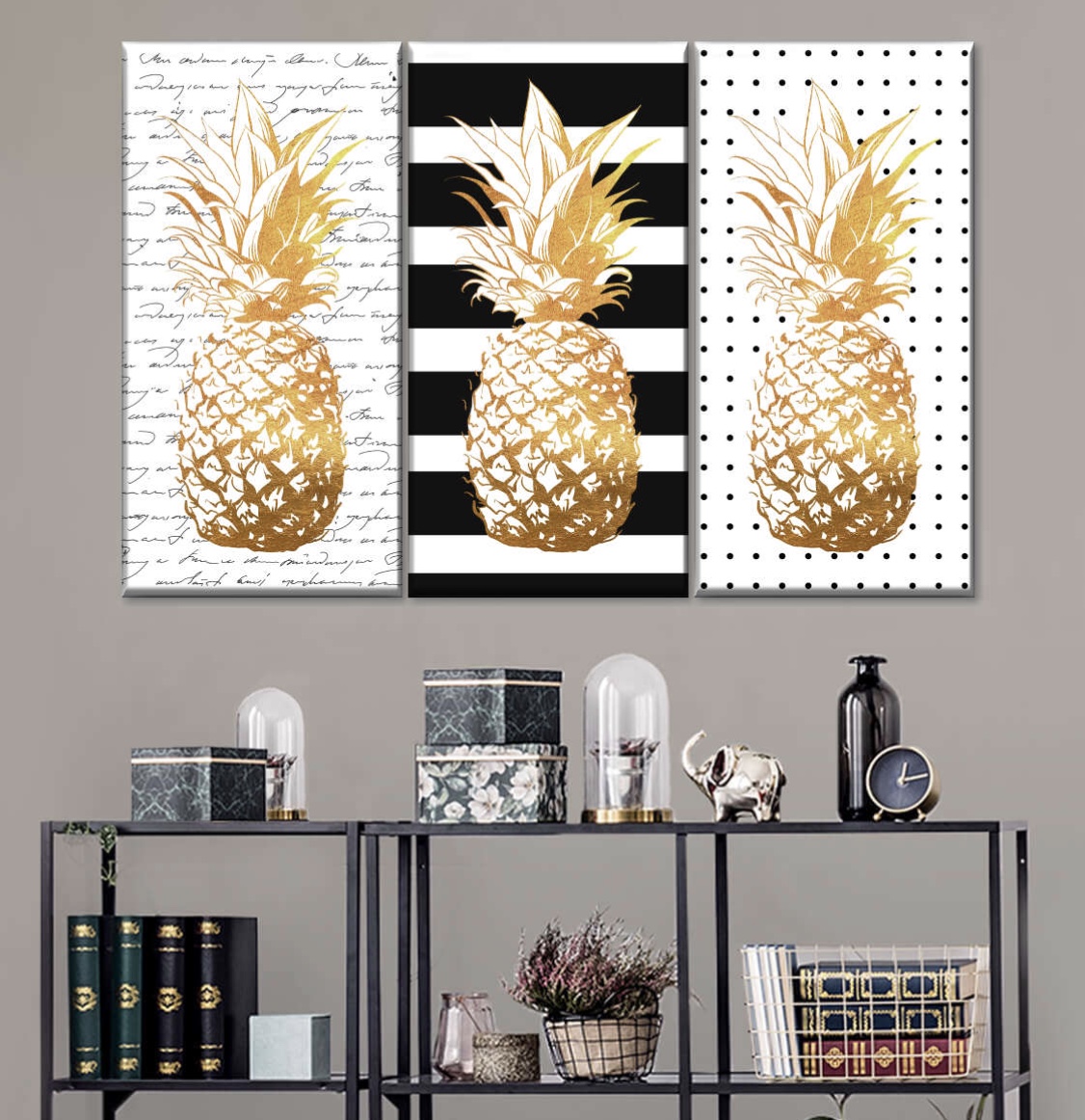 You can photo print your favorite memories into canvases, collages, hexagonal frames, and a lot more. You are entirely free to choose the number, shape, and size of canvases.
Wall arts look fantastic as they add so much beauty, and they are never a hindrance as they are space-saving. So you can go for abstract, radiant, natural, geometric, graffiti patterns. A world map canvas also looks very prominent.
#2 Serene Plants
Green plants always go with any type of decor and especially with staircases. If you have a sizable connecting rest platform in your staircase, place a large plant vase over there. You can go with a patterned ceramic pot or a golden vase.
You can also place small potters on the railing side of your stairs. Finally, place small pots on the steps. This detailing will look very good from both sides.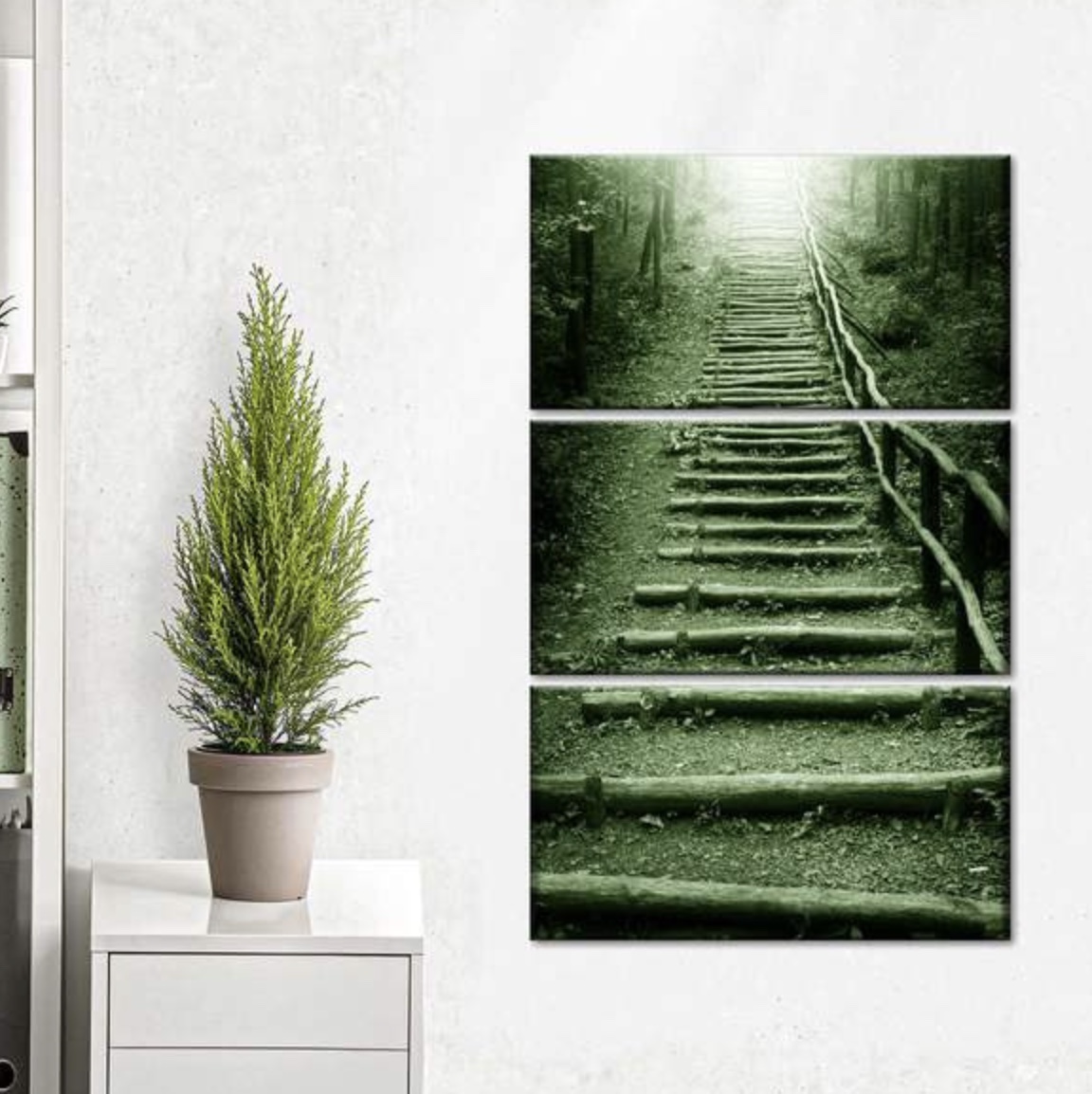 #3 Cozy Lights
Good lighting is a functional decor as you may need some light on your staircase. Don't install regular lights. Instead, on the rooftop in the middle of the stairs, you can install a hanging lamp. Lamp sconces also look very good and add finishing to staircase decor.
#4 Fun With Mirrors
A large mirror on the front wall while climbing up or down looks so stylish. It is a quick  'check yourself'' stop before going out. Also, the mirrors reflect light and make your space look bigger and brighter.
Attractive mirrors in a full-length or oval shape with interesting borders look excellent. Hanging a mirror with traditional jute rope also looks eye-catching.
#5 Wall Hangings
Wall hangings like macrame add aesthetics to the staircase decor. In addition, you can hang handmade wall hangings.
You can hang small indoor plants on the wall planters. Old painted shutters can be used to hang plants and can work as a backdrop for wall arts.
#6 Classic Bookshelf
Installing a bookshelf is an out of box practical decor idea. For example, if your staircase is large enough, you can place a rustic bookshelf at the stair halt. One can check out your collection, and it looks fantastic. Always go for the area-saving long organizer.
#7 Comforting Rugs
Some layering is always better. For example, throw a rug on the stairs that flow all through the steps. Go for anti-skid, dust-free runners with striking patterns and colors. Traditional or modern, anything comforting on feet looks good.
#8 Under Stair Storage
Don't go basic with under stair storage and try out attractive storage ideas. For example, you can turn it into a gorgeous open pantry or organizer. You can also set your study table here.
A rustic open pantry with beautiful glass jars and groceries will look exhilarating. Not only pantry, but you can also make storage for anything, your hobby, or anything specific.
#9 Gorgeous Wallpapers
Wallpapers are a great makeover idea as they are easy to install and can be removed anytime. In addition, wallpapers which look premium are available both online and offline.
They instantly change the mood of the space. You can go for abstract, vibrant patterns or keep it simple with natural colors and prints.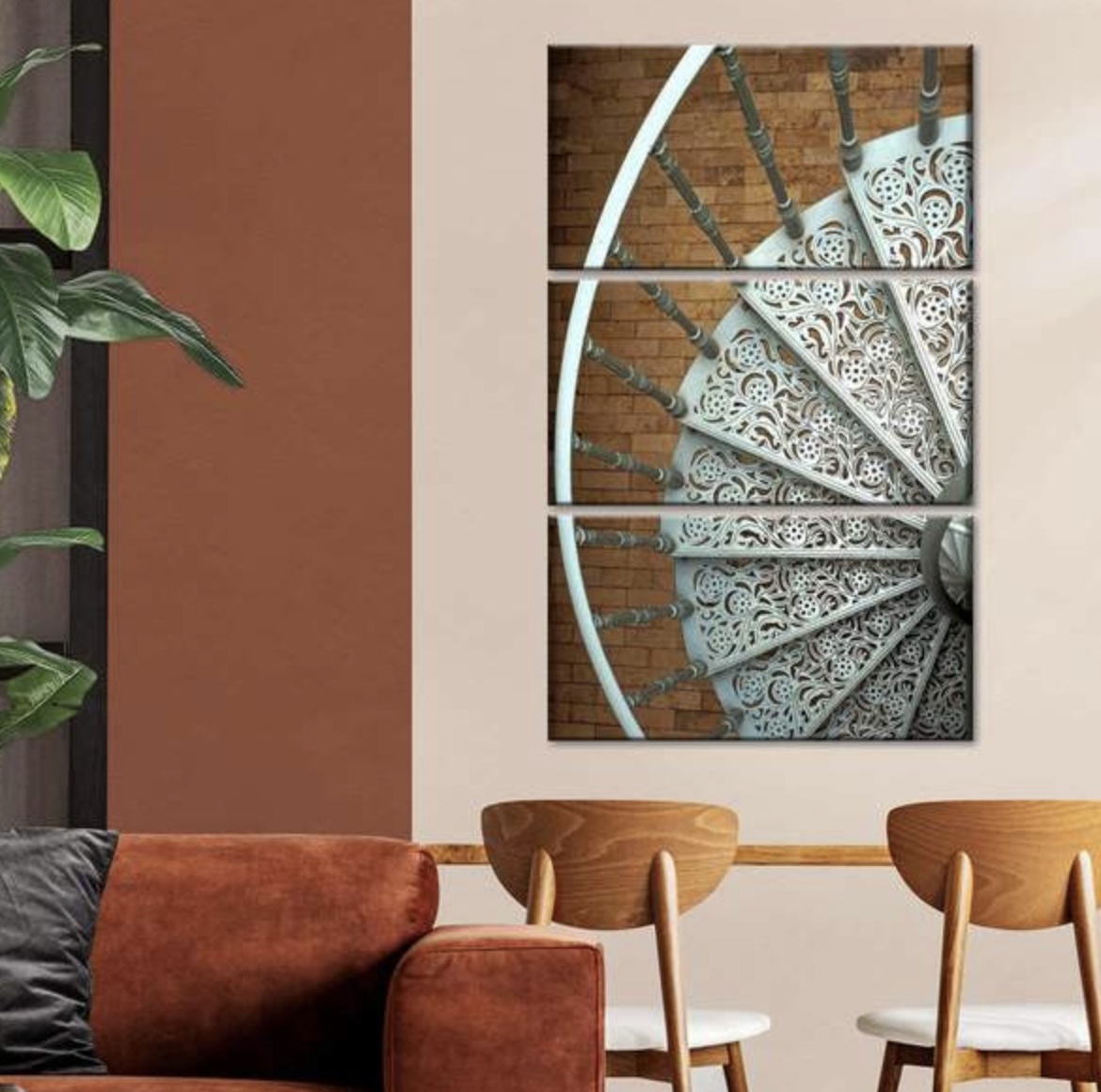 Let's sum up
The staircase walk should never look dull. You can do so much with the staircase decor and make it welcoming. Always try to install smart decor which should not hurt you or your family members while climbing up or down.
Try out these tips and experiment with the things. Then, personalize it according to your style, and it sure will be a true delight to your eyes.