An engagement ring is an endless circle of trust that inspires couples to hold their hands together like two lovebirds as they traverse life's journey. Though simple but profound, an infinity engagement ring represents the unfathomable size of the whole universe by the simplicity of an endless circle in the name of a diamond ring. An infinity ring has a special meaning to a couple planning on staying together forever.
A Brief History of The Engagement Ring
The engagement ring has a long history that dates back to over 1000 years ago in Ancient Rome. At that time, women wore tailor-made rings made from ivory, bone, copper, and iron to affirm mutual love and obedience to their partners.
The Origins of the Engagement Ring
At around 850, the engagement and proposal ring gained a new meaning when Pope Nicholas I stated that an infinity engagement ring represented a man's intention to marry a woman. 
At around 1477, the first personalized diamond ring was evidenced when Archduke Maximillian of Austria made a marriage proposal to Mary Burgundy. From there hence, engagement rings became popular among the masses.
In 1947, a British-owned diamond company known as De Beers launched an advertising campaign with the slogan "A diamond is forever" to help sore the popularity of special engagement diamond rings.  
Next came the Middle Ages, where women were allowed to wear their engagement rings to signify their everlasting love. Today, you have choices from all over the world.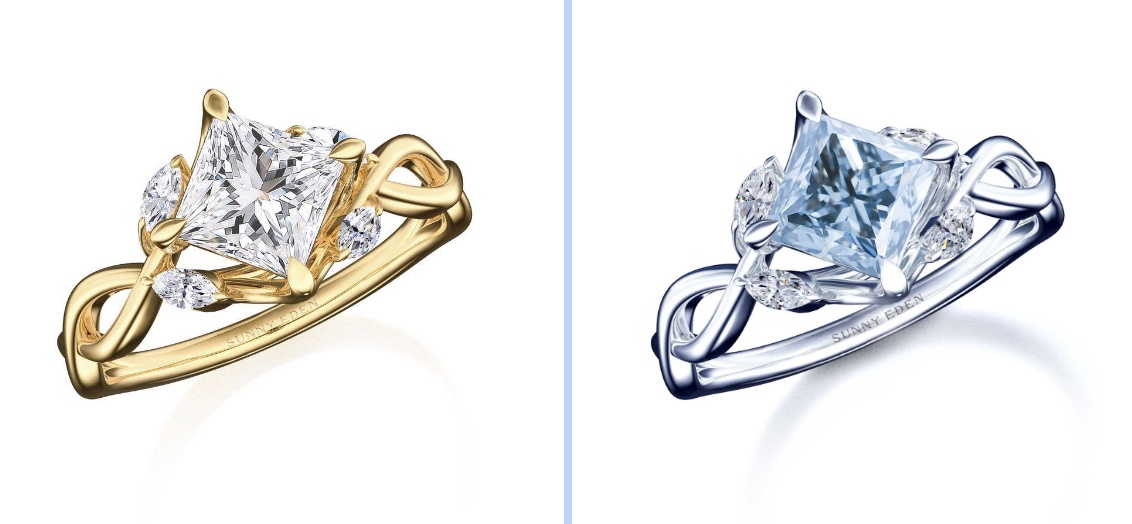 Infinity engagement rings with four small scintillating marquise-cut stones around the center stones
Popular Types Of Engagement Rings Across The World
Over the years, engagement ring trends keep changing. The engagement rings come in various types with different shapes, cuts, metals, and colors. Learning what's trending in the world of engagement rings can help you determine the best piece of jewelry for your partner and ensure that your proposal is a huge success. Here are five popular styles and details of the most popular engagement rings.
East-West Engagement Ring

:  a setting where the stone is oriented horizontally on the band.

Flowing Halo Engagement Ring

: the looped bands twist to form a halo around the center diamond stone.

3-Stone Engagement Ring

: the three stones include a large center stone and two smaller stones on the sides representing yesterday, today, and tomorrow. 

Pavé Setting Engagement Ring

: a setting that has a center diamond stone and small diamonds along with the ring's band.

Solitaire Engagement Ring

: it features just one diamond and no other gemstones.

Infinity Engagement Ring:

it

has a unique halo and twisted band design representing your infinite love. 
What is an Infinity Engagement Ring? 
An infinity ring includes an infinity symbol in its setting. Speaking of the infinity symbol, this one is a horizontal number 8 or (∞) symbol created in the 1650s. Today, most engagement rings incorporate this symbol to visualize a line that never ends. The infinity ring is one of the most common engagement rings today. 
What is the Difference Between an Eternity ring and an Infinity Engagement Ring?
Many people can not distinguish between an infinity ring and an eternity ring. Since we've explained the infinity ring, let's now look at the eternity ring. In simple words, this type of ring has diamonds attached all around the band. The eternity ring is a ring that symbolizes everlasting love and commitment. 
Eternity rings are not served as traditional engagement rings. It is mainly used to celebrate special occasions, like the birth of a child, a wedding anniversary, or some other significant event.
A Guide to Choosing a Customized Infinity Engagement Ring
For an infinity engagement ring, the infinity symbol can be one-third, a half, or the entire length of the ring band. 
Choose the Materials of the Center Stone:
If you choose a diamond as the center stone for an infinity engagement ring, it is very important to understand the 4C's. It is the global standard for accessing the quality of a diamond. Here, you need to think about the diamond cut, the carat, or the weight of the diamond, the color, and the clarity. Of course, popular engagement ring styles include ring designs using other gemstones like emerald, sapphire, aquamarine, ruby, amethyst, etc. 
Choose the Center Stone's Shape:
The infinity engagement ring can have different shapes of gemstones. Most people will choose a diamond, of course. At the top of the list is the round-cut diamond ring. The round-cut diamond makes a beautiful sparkling ring that has trended for years. Other ring sizes like the oval, cushion, baguette, heart, marquise, and pear are also beautiful options.
For a modern look, a princess would be more appropriate. Opt for a cushion cut for a vintage look. Consider pear, oval, and marquise cuts to create an elegant look to enhance your slender appearance. If you're a romantic, take the heart cut.
Choose the Band Metal:
After the stones, we now turn to the type of metal of your ring. The precious metals used in jewelry are not numerous since they are always gold or platinum. Engagement rings are rings set with precious stones. It is unthinkable to use other metals that would oxidize too quickly. Before making your choice, you will have to consider your loved one's tastes. If you buy the ring without her, choose the type of metal she wears and that she prefers.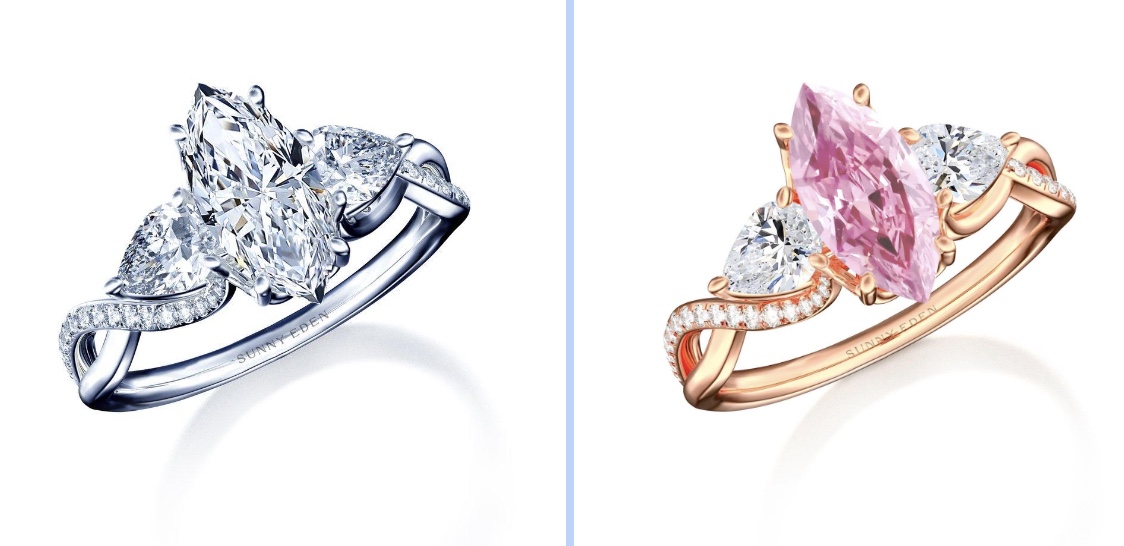 Three-Stone Infinity Engagement Ring with two smaller diamonds on each side.
Infinity Engagement Ring Made from Hair
There are companies that make lab-grown diamonds from hair, which is a brilliant idea to create a one-of-a-kind diamond. Like the US brand Sunny Eden™ who turns diamonds from your and your loved one's hair, making your infinity engagement ring unique. Customers are welcome to submit their budget and ideas for their infinity rings.
Then designers will sketch the design concepts that suit your ideas. Next, their gemstone experts hand-pick the perfect stones for you and create a 3D realistic rendering to demonstrate what the final piece will look like. At last, your customized engagement ring is made and presented to you on the stipulated date.
Some couples might prefer to have their infinity engagement rings have laser inscriptions. Here, gemstone experts use a laser beam to lightly etch numbers, graphics, letters, or other customized symbols on the lab-grown diamonds. 
The pandemic has changed a lot of things in the world today, but couples and designers aren't pausing to make engagement and ring shopping an enjoyable experience. Even a pandemic as devastating as COVID-19 cannot stop love. Just like the infinity engagement ring, which symbolizes endless love, commitment, and never-ending promise between two people in love.