Ayesha Curry has a famous sports star in her home. Her husband, Stephen Curry, is one of the best basketball players alive. And they famously call him Chef Curry. But it turns out, Ayesha is the real chef in the house. In 2020, Ayesha Curry's weight loss program helped her shed more than 35 pounds.
And she did it in a healthy way. The busy woman has a number of bestselling cookbooks and recently talked about her health and fitness journey. Most importantly, she says she did it her way by implementing healthy habits.
Talking to Harper's Bazaar's Food Diaries, Mrs. Curry said, "Fitness wasn't really a part of my lifestyle and I'd say the past year and a half—post having all of my kids—it's really become a staple for me and it helps me have mental clarity. I feel like I'm in the best shape of my life," she says. "I find that I'm happier when I work out. And so I do try to work out at least five days a week."
Over the summer, Ayesha shed a couple of pounds and showed off her strong figure. On her Instagram account, the former actress posed in sports bra and compression shorts, demonstrating a perfect squat.
Born in 1989, Ayesha is a Canadian-American actress, cookbook author, and cooking television personality. She had a couple of guest roles in television shows and movies before hosting her own show, Ayesha's Homemade on Food Network.
She started her culinary career in 2014, despite not having any professional chef training. Here is her diet and workout routine.
Diet Program
Do you want to know what Steph Curry and his wife Ayesha eat on an average day? Chef Ayesha is the one responsible for cooking in the house. While Chef Curry "cooks" on the basketball floor, Ayesha cooks at home. Here is a quick breakdown of her average day.
Breakfast
In the home of the Currys, the day begins with a fresh cup of coffee. Ayesha prepares the caffeinated drink in different ways, depending on whether she is in a fasting period or not. If she is in an intermittent fasting period, she prepares coffee with coconut oil, grass-fed butter, and some MCT oil.
When she doesn't fast, she pours a touch of Coffee-mate's French vanilla creamer into a super-strong brew. Ayesha says that she eats breakfast only during the weekends. And she has a tried-and-true meal for her breakfast.
Ayesha says, "I love a good smoked salmon scramble. It is something that I put in my first cookbook, The Seasoned Life. And I still eat it to this day". Mrs. Curry slow cooks the scrambled eggs and then adds a bit of dill, salt, and pepper, before tossing a smoked salmon at the very end.
Fun fact: unlike most of us, she drinks hot water. Ayesha is not a huge fan of ice water, so she drinks it hot.
Lunch
For most busy moms, lunch is the hardest meal to prepare. It is challenging to find time during the day to prepare the midday meal.
The celebrity author says that she tries to prepare fast healthy recipes and opts usually for a salad, either arugula or spinach. She then adds some protein to the side, either shrimp, salmon, or tuna.
For her salad dressing, she loves a poppyseed dressing with a little bit of red onion.
Snacks
For most people, snacks are the hardest part of the daily diet. Most of us just put anything we find inside. Well, not for Ayesha Curry.
The former Canadian-American actress is not a fan of snacking. She doesn't snack as much as the rest of us.
During her day, she just sips some healthy bevies throughout the afternoon. Usually, that is herbal tea or water.
But when she wants something else, she goes for some banana chips, half a banana, carrot sticks, or hummus.
In one interview with Harper Bazaar, she said, "My family is probably laughing watching this right now because I go through banana chips like crazy".
Dinner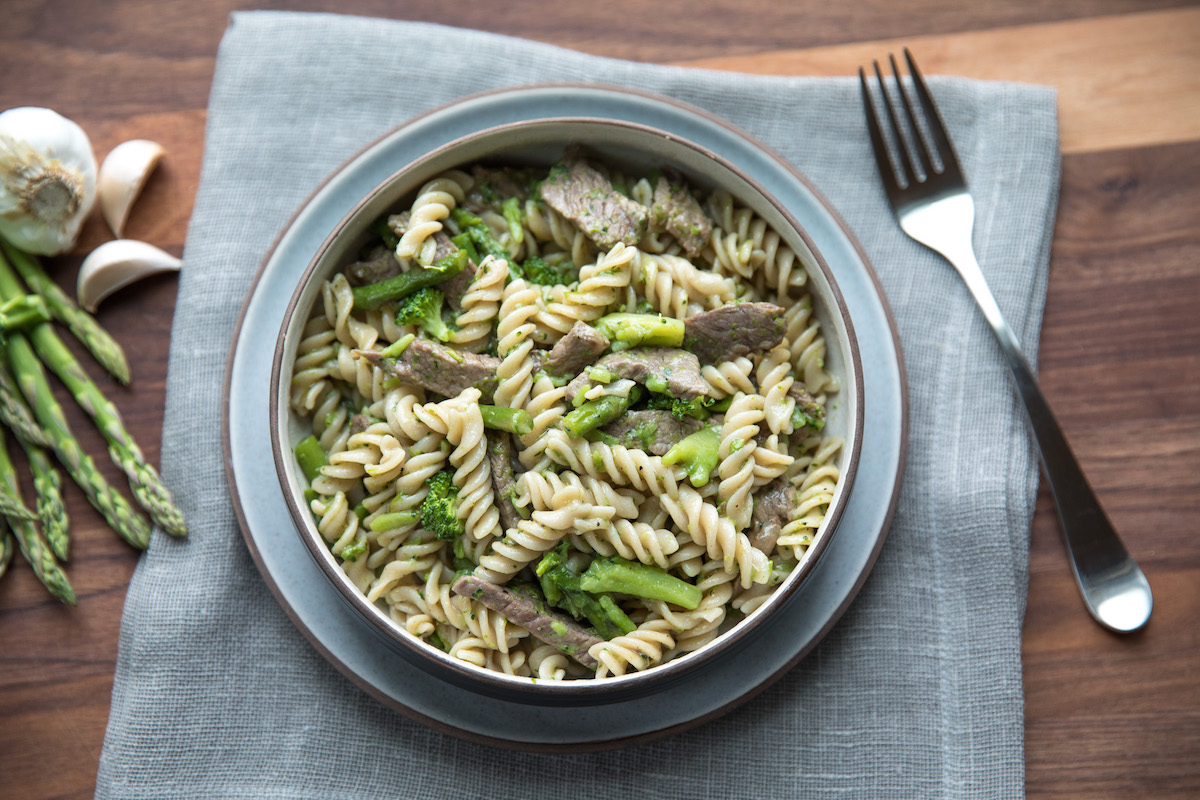 In the Curry household, dinner takes place around 7 pm, just before the kids go to bed. And Ayesha says this is the meal she puts the most effort into.
Her secret weapon is turning veggies into a whole and exciting meal. She says they are a "green veggies" family. In her diet plan, Ayesha Curry adds asparagus, broccoli, Brussels sprouts, and everything in between.
As for the effort, she says, "That's where my focus is when it comes to preparing a meal for my family. It's not breakfast, it's not lunch, it's definitely dinner because that's the time I know we're going to get to sit around the table together."
In her latest book, The Full Plate, she adds many quick dinner recipes. Some of them include 20-minute, sheet-pan dinners, pasta dishes, simple steak dinners, and lots more.
Favorite meal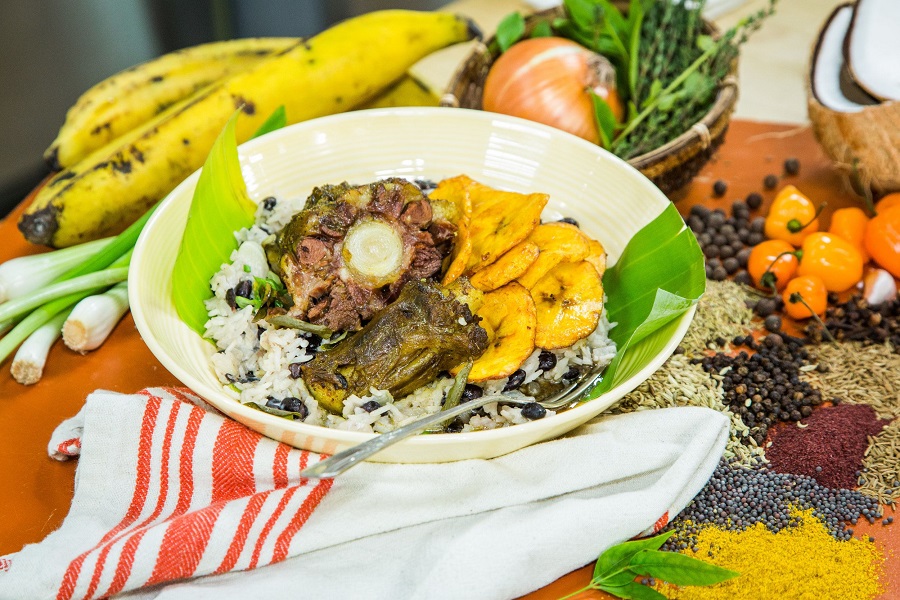 What is Ayesha Curry's favorite meal? Well, she likes to honor her Jamaican roots whenever she can. And she definitely does in her cooking.
There is one traditional Jamaican dish she loves to prepare and her family loves it. Steph Curry also loves it.
She says, "My absolute favorite meal to cook is oxtail rice and peas and fried plantain," she said. "Again, I'm Jamaican, that is my heritage, that is the food that I grew up with. It just brings me so much comfort and joy when I make it."
At the end of the day, remember, she is only human likes the rest of us. Ayesha likes to indulge in food every now and then. For example, her guilty pleasures include ketchup chips and donuts.
Workout routine
Ayesha Curry praises her diet for her weight loss. But she knows that diet can only get you so far. If you want to have a firm, strong, and toned body, you have to sweat a bit.
The celebrity cooking star says, "I started my fitness journey because I wanted to be strong and healthy for myself and the people who depend on me. But it was important that I did it my way, which meant I needed working out to fit in my life, not take me away from it."
She partnered with Fitbit for an exclusive series during the summer of 2020. She admits the premium subscription helped her stay on track with exercise goals. She could tap into a huge library of workout content while traveling.
So, you are probably wondering, how did she manage it in light of her hectic schedule? Well, for Ayesha, it was important to carve out time, even just a few minutes. Her advice is "the best approach is to make every workout session work for you".
There is no single formula that works for everyone. But if you create time for yourself, it is never wasted time.
Some of her quick exercises focus on core body strength, legs, arm circuits, and glutes. And her absolute favorite? HIIT bodyweight workouts.
For her cardiovascular workouts, she engages in a variety of activities such as; indoor cycling on her Peloton bike, which burns approximately 400-600 calories per hour, playing golf, which burns around 200-300 calories per hour, and participating in paddleboarding, which can burn 300-500 calories per hour. These diverse exercises not only keep her active but also help maintain a well-rounded fitness routine
Succeeding in light of turbulence
In 2017, several television and film executives got accused of sexual misconduct. And Ayesha Curry fell victim because of it.
Judge Johnny Iuzzini got accused of sexual harassment by four separate women who worked for the pastry chef from 2009 to 2010.
In light of it, ABC canceled The Great American Baking Show, one for which Ayesha Curry worked.