Working specifically as a hair transplant specialist for more than a decade, Dr. Ozlem Bulu pursued a specialized training program in hair restoration surgery after completing her medical degree at a top institution in Istanbul, Turkey. She has since been committed to providing patients from all over the world with the highest quality and most cost-efficient hair transplant solutions.
With an impressive resume and expertise behind her, we asked Dr. Bulu the reasons that made her focus on hair transplantation as a specialty.
"Hair loss can have a profound impact on a person's self-image, and I wanted to be a part of their journey towards a positive transformation. My father and all my uncles had male pattern baldness and so I grew up thinking that hair loss is normal. That generation didn't have the option to get a hair transplant done back then. But now there is a huge opportunity to change lives and I wanted to be a part of it.
Moreover, Turkey has gained a reputation as a leading destination for hair transplants thanks to our diligent doctors and determination. Our country has certainly become a global hub for hair transplants, and there are several reasons for this. Turkish medical professionals receive thorough training, ensuring we offer the best artistry and service to our patients."
There is already a big local population who opt for a hair transplant and trust Turkish surgeons. Additionally, the quality and cost of hair transplants in Turkey have played a significant role in attracting international patients. The overhead costs in Turkey are lower compared to many other countries, allowing hair transplant clinics to offer competitive prices without compromising on the quality of doctors or patient care.
"Our government has been very supportive of medical tourism, which has helped boost the country's reputation in the field. This support, combined with cutting-edge technology and a focus on patient satisfaction, has contributed to our prominence in hair transplantation.
Over the years, hair transplantation has evolved significantly, thanks to tech advancements and continuous research. Today, Follicular Unit Extraction (FUE) is widely used, rather than Follicular Unit Transplantation (FUT).
FUT involves the removal of a strip of scalp from the donor area, and the hair follicles are then individually dissected and transplanted to the recipient site. On the other hand, FUE involves extracting individual hair follicles directly from the donor area and transplanting them.
In Turkey we are very advanced in harvesting and transplanting hair follicles with unparalleled accuracy, leading to natural-looking results. That's what makes us unique." she adds.
We agree with Dr. Bulu on that because hair transplant prices in Turkey are significantly lower compared to many Western countries and even some of the neighboring countries in the same geographical region. The cost difference can be attributed to several factors, such as inexpensive living conditions, the availability of skilled medical professionals, and the high demand+competition.
Patients coming from countries with higher healthcare costs save a substantial amount by choosing Turkey for their hair transplant. It's important to note, however, that despite the cost savings, the quality of care and results remain uncompromised.
This is what Dr. Bulu says when we ask her thoughts on medical standards at Heva Clinic in Turkey:
"Patient safety and satisfaction have always been our top priority, and we maintain the highest international standards of care at our clinic. At Heva Clinic in Turkey, where I work, we conduct a detailed check-up for each patient to determine their suitability for the procedure and identify any potential risks, contraindications, or allergies.
Our team is of course constantly trained to follow international guidelines and best practices, ensuring a safe surgical environment.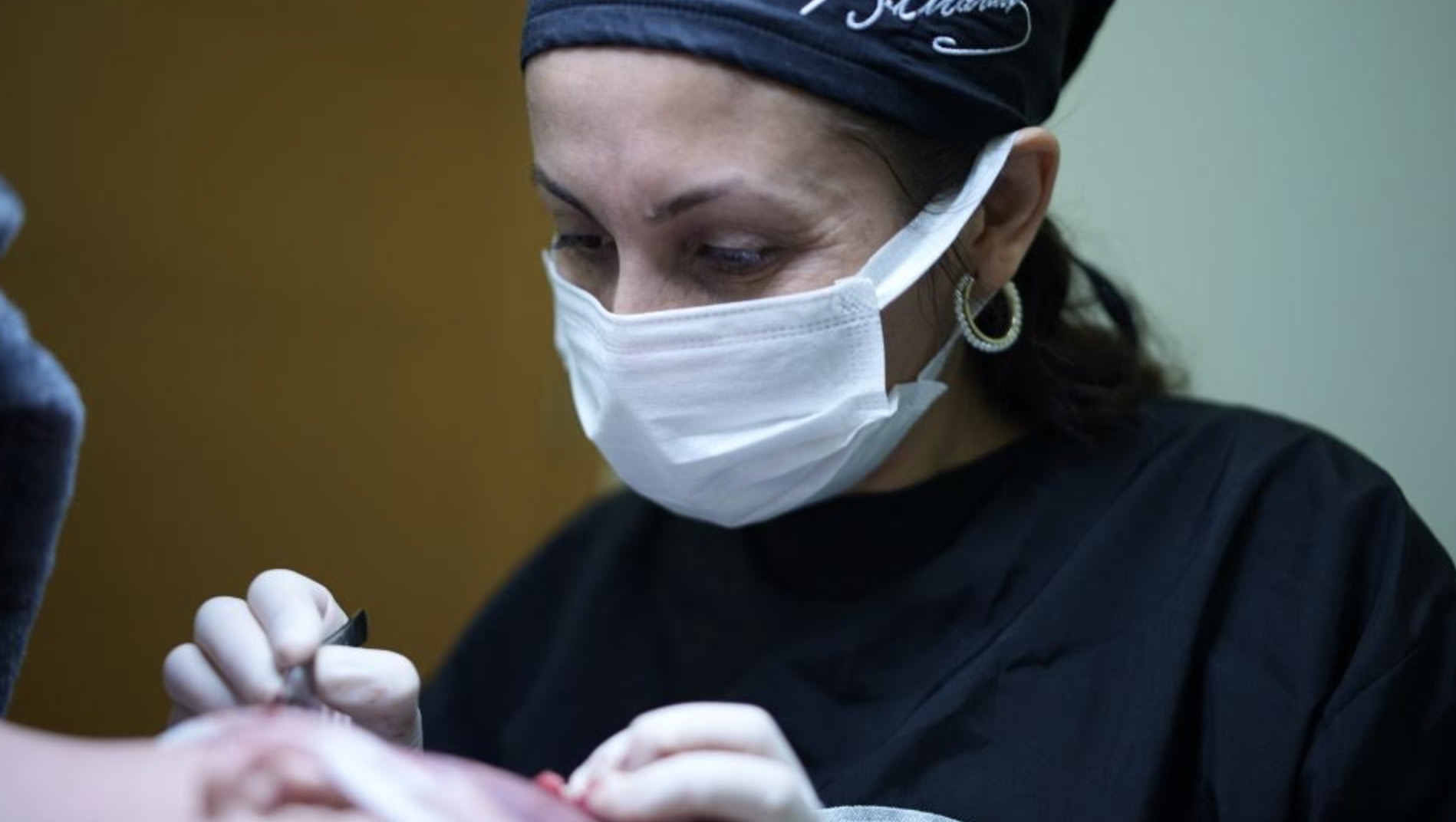 We also provide comprehensive post-operative instructions to our patients, including guidelines on wound care and follow-up appointments to monitor progress. Regular follow-ups are essential to track the healing process and address any concerns promptly. Our patients go back home knowing that we provide 24/7 support and are within their reach at all times."
We also wanted to touch base on the issue of communication and asked Dr. Bulu if international patients are concerned about the language barrier when considering having their hair transplant in Turkey. She explained that this common concern is addressed by ensuring effective communication with her patients, especially when they come from different countries and speak different languages.
At Heva Clinic in Istanbul where Dr. Bulu does hair transplant surgeries, there's a multilingual team, and they can provide a personal interpreter in any language upon request and for no extra cost. This enables Dr. Bulu and her team to effectively communicate with their international patients, understand their needs, goals, and address any questions or concerns they may have.
They also provide comprehensive pre-and post-operative instructions in multiple languages to ensure that their patients fully understand the process and aftercare requirements.
Dr. Bulu emphasizes that hair transplantation is a life-changing step for many individuals struggling with hair loss. Her native, Turkey offers a unique combination of world-class medical professionals, advanced technology, and cost efficiency, making it an excellent destination for hair restoration.
"I encourage anyone considering a hair transplant to do their research, seek top specialists, and consider the benefits of having the procedure done in Turkey. I am committed to helping patients achieve the best results possible and I will continue to spread joy and happiness until the last day of my career. It is my greatest motivation to see my patients looking confident and feeling on top of their game."