Innovations in the digital realm have created some major changes in the healthcare industry. The pandemic brought the benefits of digital health to the forefront, both in the everyday life of healthcare consumers and also for hospital and healthcare delivery systems.
While digital health care is important, peak health starts at home by taking care of your body. Nutritious food, regular exercise and relaxation with good self-care are all vital to staying healthy. Try relaxing with a soothing hand mask or a rejuvenating cuticle treatment to keep your hands healthy.
Let's look at some of the ways in which digital technology will continue to shape the future of healthcare.
Digital Data to Help Prevent Disease
The ability to access health data, store it, and then process it is all part of what is called the Internet of Medical Things (IoMT). The IoMT is made up of all the devices that gather medical data — things like electronic health records, implanted pacemakers and defibrillators, glucose monitors, online and personal trackers, remote patient monitoring, pharmaceutical data and more.
Digital Data Uses in Research
All this data is stored and processed in ways that can aid research by replacing the need for biological models and creating digital models of how biological systems such as the heart or a cell would respond to a particular treatment.
The ability to use digital data to create models of systems replaces some of the need for testing on humans and animals, and it is also able to predict the outcomes of drug treatment. The predictive nature of processing digital data can also predict candidates for a particular treatment much faster than traditional research methods.
Digital Data to Predict Disease
Using data gathered from mobile and wearable devices, scientists are able to identify threats to health such as undiagnosed cardiac conditions that may indicate a possible future stroke or heart failure. This could lead to earlier intervention, which may save lives.
Scientists are also using digital data gathered from internet search engine queries to monitor infectious disease outbreaks. By analyzing internet search questions about particular symptoms and other markers of illness, scientists have been able to identify early stages of infectious diseases such as MERS (Middle East Respiratory Syndrome).
Early identification of disease creates better outcomes for individuals as well as whole communities and countries. This allows for better response times to crises and more appropriate treatment and prevention.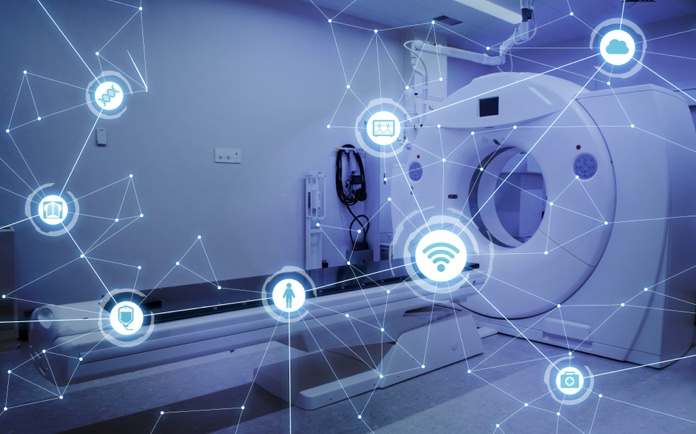 Source: Metamorworks/Shutterstock.com
Artificial Intelligence and Healthcare
Artificial Intelligence (AI) is closely related to "machine learning." It refers to the process of computers processing information through complex algorithms, which allows them to make suggestions, decisions and predictions. It's called AI because it works like a human brain to make decisions based on a variety of input.
In the healthcare industry, AI can transform the medical system. It is already being used in many medical imaging softwares and applications, such as:
Diagnosing rare or unusual diseases
Reading X-rays, CT scans and MRIs
Diagnosing and staging cancers
Drug and treatment development
Research and clinical trials
AI also uses digital data gathered through the internet of medical things to facilitate machine learning, which can lead to better outcomes and smoother healthcare experiences for consumers.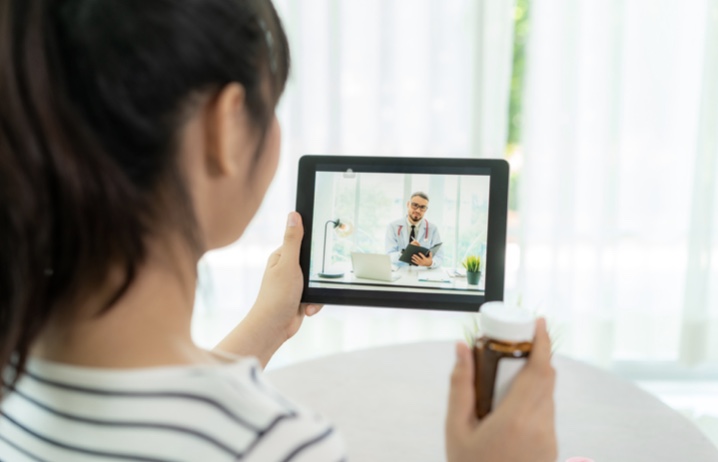 Source: Travelpixs/Shutterstock.com
Healthcare Providers Utilizing Digital Technology
Due to social distancing orders, community lockdowns and attempts to reduce the spread of COVID-19, many healthcare providers stepped up their use of digital technology. The use of "telehealth" models became commonplace and made healthcare access easier, as well as more efficient.
Telemedicine
Telemedicine, also sometimes referred to as "telehealth," allows patients to receive care from a provider without having to be present at an in-person office visit. Telemedicine is done either over a smartphone with video capabilities or via computer or tablet.
Talking with your healthcare provider, as well as using video capabilities so that they can do a visual assessment, allows patients quicker access to care. You can follow up with your provider via text or chat. In some cases, remote monitoring may be needed. Your doctor's office may use monitoring devices so that they can gather vital signs and data in real time.
Telemedicine is particularly well suited for managing a variety of situations, such as:
Going over test and imaging results
Mental health and counseling
Chronic and recurring conditions
Dermatologic issues
Medication and prescription management
Issues like UTIs and respiratory infection that need urgent but not emergency care
Routine follow-ups after surgery
Telemedicine has many benefits for consumers. Being able to stay home when feeling unwell is not only good for you, but it also reduces the chance for illness to spread. Easier access to medical providers means you can get health care even while being at work, so there is less lost income. Shorter wait times, less travel and easier access to specialists are also benefits.
Virtual Reality for Use in Training Healthcare Professionals
The immersive experience of virtual reality (VR) can be a lot of fun in a video game, but it can also be used for a number of practical applications. Training medical professionals is just one of them.
VR immerses the user in a simulation of the real world through a computer headset and receivers, which can transmit information via hearing and tactile sensations. A monitoring system can perceive the movements and responses of the user.
Research has shown that VR training improves outcomes when used for training doctors and surgeons. It can be used for training in laparoscopic surgical procedures, as well as orthopedic procedures like joint replacement and treatment of fractures. VR can also assist in learning suturing techniques, nursing procedures and treatments in ICU settings.
The future of digital health is rapidly evolving and, with new technologies emerging on an almost daily basis, it seems the future in medicine is very bright.