It's important to have some classic wardrobe staples. Plain tee shirts are great for layering and accessorizing, and you can never go wrong with a pair of blue jeans. While plain tees and blue jeans used to be the only wardrobe staples anyone knew about, they don't compare to the newest wardrobe staple: the ever-so-versatile silk dress. Everyone is talking about silk dresses and for good reason.
There are so many ways to style a silk dress, and you can easily dress them up or down. Because of this, they make a great sustainable addition to any wardrobe. Instead of buying one dress for one occasion and another dress for a separate occasion, you can wear one silk dress to many different outings and have it look like a totally different outfit, just by changing the accessories and layers. After reading today's article, you'll be fully convinced that you need to have a silk dress in your wardrobe, and we'll also show you how to style one. Keep reading to learn the power of a silk dress.
Why are Silk Dresses a Wardrobe Staple?
You might be asking yourself, "Why are silk dresses a wardrobe staple? What is it that makes them so much better than other types of dresses?" Firstly, as mentioned, it is super easy to style a silk dress in so many different ways. One dress can easily pull off a dozen different outfits with the right layers and accessories. Sustainability is everything at Reformation, and silk dresses are the perfect combination of fashion and sustainability.
Secondly, silk is quite a luxurious fabric, and you can tell that Reformation silk dresses are made from top-notch silk just by glancing at them. Silk is known for not only its shine but also for its strength and durability. When you invest in a silk dress, you're not buying a cheap piece of clothing made from material that'll rip in two wears. When cared for properly, silk can last you years and years, and by not continually re-buying dresses, you can have that much of an impact on your wallet and the earth.
Thirdly, silk has a look that can't be copied. You won't get the same elegant, chic look by wearing a dress made from fake silk. No fabric holds a match to real, genuine silk, and that is exactly what Reformation dresses are made of.
Silk Dresses That are Easy to Dress Up or Down
Let's move on to how to style a silk dress. Here are a few Reformation silk dresses that are super easy to turn into both a casual or a fancy outfit:
Ellery Silk Dress

Ellery is a silk mini dress with a V-neckline and ruching throughout the bust. She comes in three colors and patterns: Hyperion (pictured), Canaria, and Sweet Pea. if you're looking for a short silk dress to wear for a lot of different occasions, then Ellery is perfect for you.
Aribella Silk Dress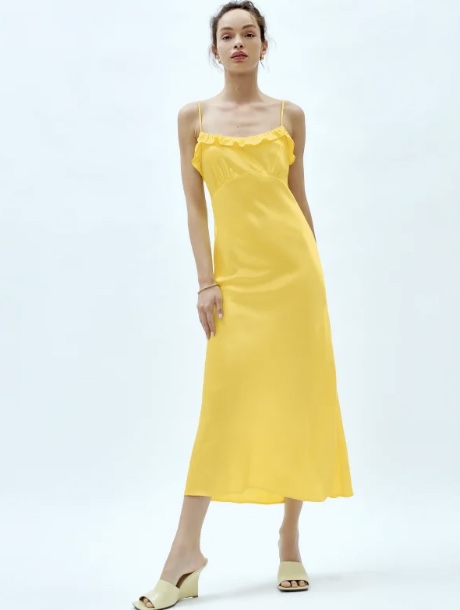 Aribella is the perfect casual summer silk dress. She's a midi-length slip dress with cute ruffle detailing around the neckline. Pair this dress with a cardigan and ankle boots for that trendy cottage-core look or with heeled sandals for the perfect summer wedding guest outfit.
Kiana Silk Dress
Kiana is the perfect silk dress to flatter every body type. Kiana is a midi wrap dress that shows off a V-neckline and cinches at the waist. A slit in the skirt shows just enough of the leg to be both flirty and classy. Comfortable and versatile, this dress is perfect for a picnic or fancy date.
Dressing a Silk Dress Up
Now that we've covered a few of the best silk dress styles that can go both ways, let's move on to how to dress silk dresses up for nicer occasions. Here are some examples of how to dress up a silk dress:
Pair with your favorite pair of pumps or high-heeled sandals for extra elegance.
Add gold jewelry such as gold rings, necklaces, and bracelets for a chic, high-class look.
Make sure your hairstyle matches the vibe; if your silk dress has a high neckline or halter top, go with a low curly messy bun. Having your hair down or in a sleek ponytail is ideal for V-necks.
Dressing a Silk Dress Down
With just a few changes in accessories and jewelry, silk dresses can go from fancy to casual. Here's how to do it:
Your shoes are the main piece of the outfit that will determine how casual it looks. Flat sandals will keep your silk dress outfit on the nicer side while still being a little casual, but wearing a pair of sneakers completely transforms your outfit into something you can easily wear to any casual outing.
For a casual look, stay away from fancy-looking jewelry and opt for simpler accessories.
A cross-body bag or handbag can make your silk dress more wearable for everyday use.
Conclusion
We could go on forever about the different ways to style a silk dress, but the main point of this article is that silk dresses are the perfect way to keep fashion sustainable. With multiple ways to wear it, a silk dress can help you keep your environmental footprint to a minimum while also keeping your wardrobe super fashionable. The best way to see just how many outfits you can make with one silk dress is to get one yourself. Head over to the Reformation online shop and find the silk dress that is perfect for you.