| | |
| --- | --- |
| Real Name: | Emery Hope Sehorn |
| Birthday: | December 18, 2008 |
| Net Worth: | N/A |
| Height: | N/A |
| Occupation: | Daughter of Jason Sehorn and Angie Harmon |
Usually, in Hollywood, you become a celebrity child when you have a famous parent. But what happens when you have two such parents? And when their engagement goes viral? Well, the whole world awaits your arrival. Emery Hope Sehorn is one of the more famous celebrity children in Hollywood.
She has two, not one celebrity parents. Let's find out more about her parents, her life, and how her parents got married.
Who Is Her Father?
Emery's father is Jason Heath Sehorn, a former American football player who played in the National Football League for the New York Giants. The former American football cornerback played for the Giants from 1994 to 2002 and then spent one more year playing for St. Louis Rams in 2003.
Born in Sacramento, California, Jason Sehorn played only one year of high school football. Then, he moved to play college football at Shasta College, a junior college in Redding, California.
There, he was a standout wide receiver, kick returner, and punt returner. When he played at the University of Southern California, Jason moved to safety due to the amount of talent at wide receiver.
The New York Giants drafted him in the second round of the 1994 NFL draft. He spent most of his professional career playing in New York as a cornerback.
He was released in March 2003 by the team and signed for one year, playing for the St. Louis Rams as a safety.
Besides his professional career as an athlete, he has also had short appearances in movies and television series. For example, he appeared in an episode of the NBC show, Third Watch. In that episode, his character was killed in a warehouse blaze.
He now works as the Director of Communications at the Hedrick Automotive group in Charlotte, North Carolina.
Jason Sehorn has also worked as a panelist on the Sunday NFL pregame show for Fox Sports Net. And during the NFL offseason, he participated in ABC's Superstars from 1998 to 2000.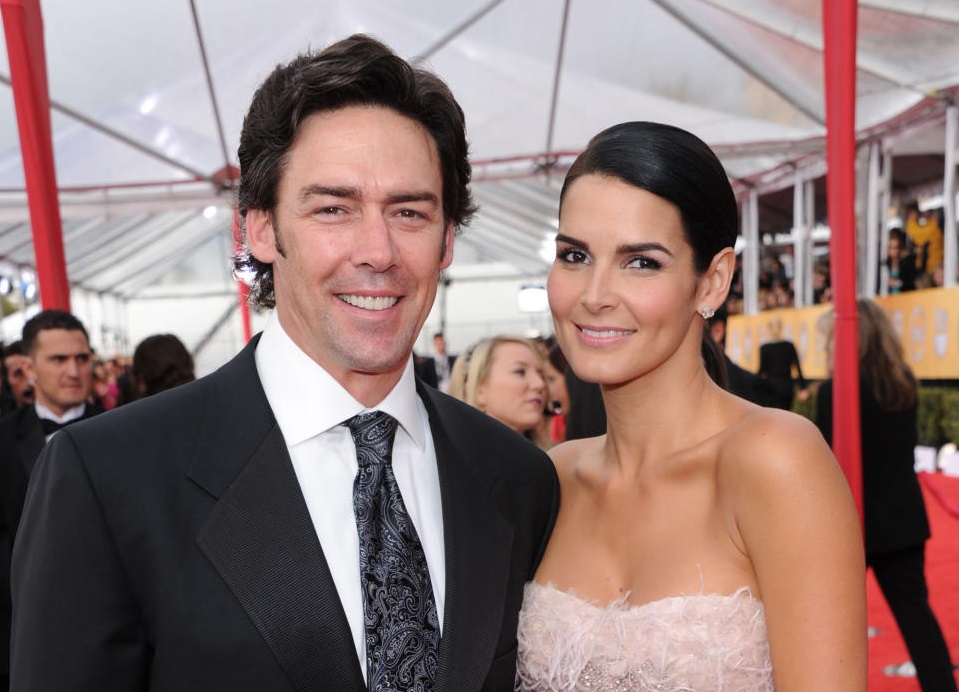 Who Is Her Mother?
Now let's talk about the mother of Emery Hope Sehorn. That would be Angela Michelle Harmon, an American actress, and model. Born in August 1972, Angela Harmon started her modeling career after winning the Seventeen's modeling contest in 1987.
She was only 15 years at the time. After her win, she signed with IMG Models. Her modeling career helped her appear on the cover of magazines like Esquire and Cosmopolitan.
From 1995 to 1997, she portrayed Ryan McBride on Baywatch Nights, a role that helped get her big break in Hollywood.
Her next role earned her four Screen Actors Guild Award. Harmon portrayed Abbie Carmichael on Law and Order from 1998 to 2001.
Fun fact: she has portrayed Barbara Gordon, an iconic Batman character in Batman Beyond: Return of the Joker in 2000.
Harmon has starred in several Lifetime network's original projects, including the biographical special, Video Voyeur in 2002.
Harmon was born in Highland Park, Texas, a Dallas suburb. Her father has German and Irish ancestry, while her mother had a Greek ancestor who served in George Washington's army during the American Revolutionary War.
Working as a child model, she attended Highland Park High School until 1990. Fun fact: the famous David Hasselhoff discovered her and helped Angela get into acting. He was the one who discovered her on a plane in 1995 and helped her get a leading role in Baywatch Nights.
In June 2021, Angela Harmon signed a multi-picture development deal with Lifetime network.
How Did Her Parents Got Married?
Jason Sehorn and Angie Harmon had one of the most famous and viral engagements. Their marriage is famous because of the very unusual and public proposal.
During Harmon's appearance on The Tonight Show with Jay Leno, Sehorn proposed to her. He asked for help from host Jay Leno. Sehorn hid backstage and surprised her by getting on one knee and asking for her hand in front of a live studio audience and millions more watching.
The two got married in June 2001 and have three daughters together. Emery Hope Sehorn is only one of them, and she is the youngest. Their first child is Finley Faith Sehorn, born in October 2003, followed by Avery Grace Sehorn in 2005.
In November 2014, the couple announced they were separating after 13 years of marriage. They officially got a divorce in December 2015.
The couple issued a statement through their representative, saying, "For the sake of their children, they ask for respect and privacy as they navigate this time in their lives. It would seem that the press will be a bit in the dark regarding this particular celebrity divorce".
Emery's parents moved on with their lives, but they still take care of their children. Harmon announced her engagement to soap-opera actor Greg Vaughan in December 2019, while Sehorn remarried Meghann Gunderman in 2017.
Who Is Emery Hope?
Now let's talk about Angie and Jason's youngest daughter. Born on December 18, 2008, Emery Hope Sehorn is a popular celebrity child.
Her mother is a recognizable actress, while her father Jason is a legend and former professional American Football player.
She has two siblings, her sisters Finley Faith Sehorn and Avery Grace Sehorn.
Emery Sehorn was born in the US, but there is no information about her birthplace. The lovely young lady has a lovely pair of dull earthy colored shading eyes with dim earthy colored shading hair.
She is American by nationality and belongs to the white Caucasian ethnicity.
Net Worth
As of January 2023, Emery Sehorn is only 14 years old. She is just entering her teenage years. Yes, her mother was a teenage model and probably earned a decent amount of money as a child model.
But Emery is not on that path. She still hasn't started her career. Nor does she have a net worth. As a celebrity child, she is been taken care of by her mother Angie Harmon, and father Jason Sehorn. Her mother is a popular actress with a net worth of $30 million, while her father has a net worth of close to $20 million.
That is more than enough for Emery and her sisters to live a comfortable life.