There is nothing more romantic than a gorgeous lawn wedding on a warm, sunny spring or summer afternoon. Who doesn't love sitting in the outdoors, watching two people declare their love for each other. At a lawn wedding, you are not only surrounded by your friends and family, but also by the beautiful nature around you. The location of your wedding can help you narrow down your choice of bridesmaid dresses by taking inspiration from the surroundings and the theme of your wedding. Here at Chicsew, we are bridesmaid dress experts and help many brides find the perfect dresses for their best friends and close family members on their special day. Let's take a closer look at how to choose the bridesmaid dresses that are perfect for a lawn wedding.
Think Of Your Location And Pair Your Bridesmaid Dress Colours With It
Selecting your wedding colours will be the next task on your wedding preparation to-do list after choosing the outdoor spot where you plan to get married. Keep in mind that you are saying "I do" in front of beautiful landscape. Take advantage by choosing a wedding colour scheme that is just as lovely!
Think about which colours will highlight the natural beauty of your outdoor venue the most as you gather ideas for wedding colour palettes. Are you planning a wedding near the water? A wedding colour scheme consisting of aquamarine, light blue or teal will play up the beachy location. If you are getting married in a springtime garden that is full of florals, long lilac satin dresses are a great option to pick out some of the pastel lilac shades from ChicSew.
For more rustic weddings in countryside, rural locations may brides like to stick to neutral, barn type colours. A great choice for bridesmaids for this wedding theme is long burnt orange satin bridesmaid dresses that pair with beiges, browns and creams.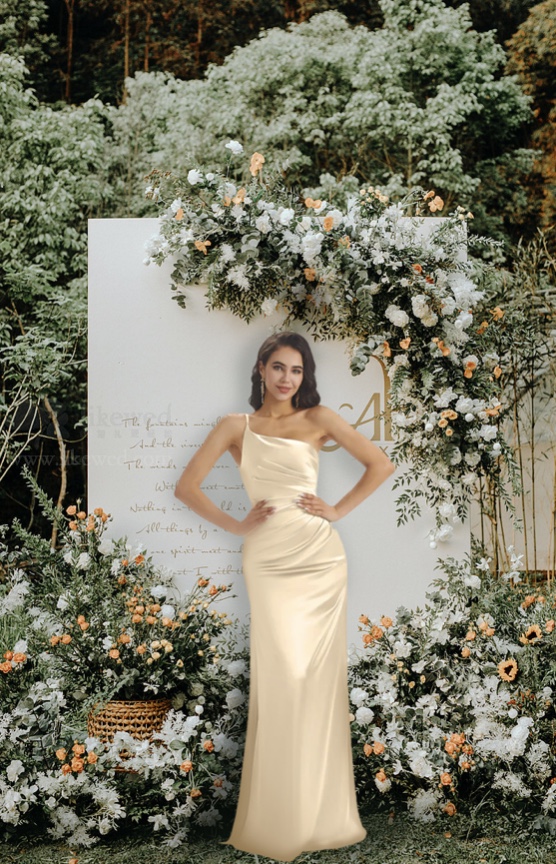 Consider The Weather And Plan Accordingly
Your bridesmaids are the closest people to you, and will stand by your side no matter what the weather – but let's at least make it comfortable for them! If you are planning a lawn wedding in the warmer summer months, your bridesmaids will be standing in the sunlight where the temperature could be high. Therefore, it is important to choose cooler floaty fabrics, such as chiffon due to their lightweight nature. On top of this, choose lighter shades that reflect the sunlight to try and keep your bridesmaids as cool as possible. This is especially important if your bridesmaids are slightly larger, as they are more likely to feel the effects of the heat. A rose gold dress is a great choice as the light shade reflects the heat, and the shade can also match well with a hot summer day.
If chiffon isn't your thing, satin is a slightly heavier material that still has some movement in it, allowing your bridesmaids to not overheat. Champagne shade are a great choice in the warmer weather and a classic shade for any season.
The skirt design of your bridesmaid dresses can also be impacted by the location and weather. Longer bridesmaid dresses keep the heat in better than shorter bridesmaid dresses. However, if you have your heart set on long bridesmaid dresses, consider adding a slit in the skirt to allow some air through the dress to cool your bridesmaids down. The slit can also make your bridesmaids look sexy, yet glamorous adding to a special look. One shade of dress that looks super glamorous with a split are gold color dress, paired with an ivory or white rose bouquet and thigh-high split.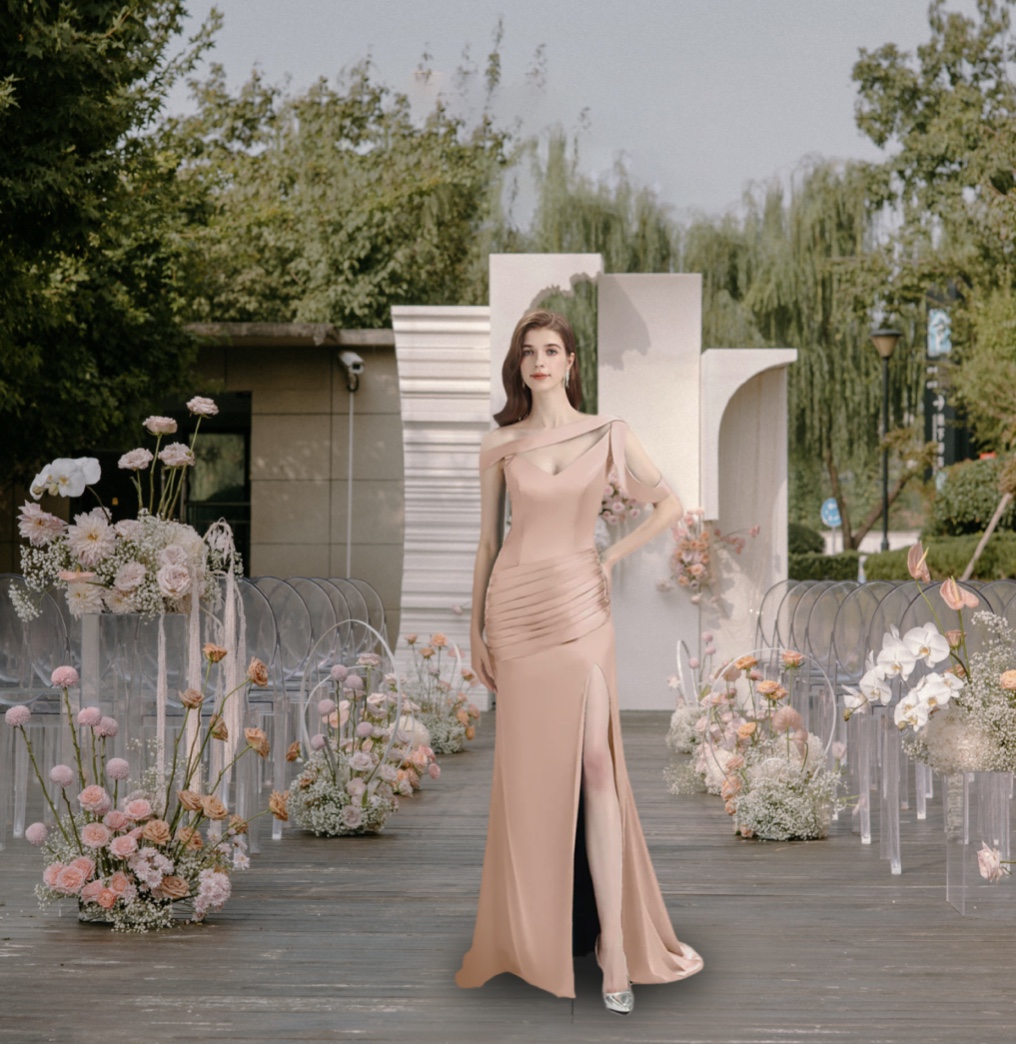 Think Carefully About Bridesmaid Dress Accessories
Consider finding small fans to pair with your ChicSew bridesmaid dresses that your bridesmaids can use to cool down if the sun is out.
If you are choosing bridesmaid dresses for an outdoor wedding in the cooler months, perhaps choose a bridesmaid dress with a warmer material, or one that has long sleeves for an extra added layer of warmth. Alternatively, choose the dress design that you desire but add a shawl or a shrug to the overall design to be worn outside if things get a little more chilly. Another accessory to think about during the winter months is shoes. Closed-toe wedding shoes are a better choice during winter to keep your toes from turning blue from the cold. If your wedding ceremony is being held in a grassy area, you may also want to avoid pointy heels altogether, as these heels can sink into the lawn. Nothing ruins the magic of the moment like your bridesmaid dresses getting stuck in the grass as they walk down the aisle! There are special attachments that can be added to heels in order to help them sit on top of the grass, rather than sinking in.
Bridesmaids may not traditionally wear a bag, but it is important to perhaps consider a small clutch bag, particularly during the warmer spring and summer months. This is because there are a few things that will benefit them to have throughout the day, such as blotting papers to touch up make up, sunscreen to protect their skin from the heat or a small fan to keep cool. Choose a small clutch bag that they can leave on the table, that matches their dresses to help it blend in.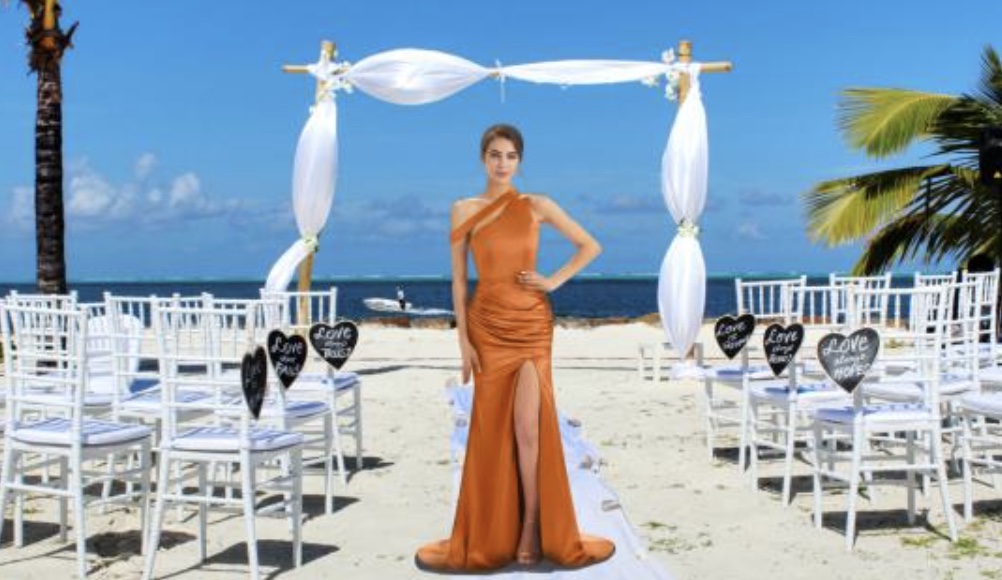 The Take Away
A lawn wedding can be a stunning choice, as there is nothing quite like the beautiful outdoors on a lovely day. When choosing your bridesmaid dresses, it is important to consider a number of different factors, including the venue, the weather that you are likely to experience and any accessories that you can add to your bridesmaid dresses to help combat this.  No matter the style of bridesmaid dress that you are looking for, Chicsew have a range that will suit you – whether you are looking for a modern or traditional design or regular or plus-size ranges.