The U.S. is far too large of a country to just park yourself in one part of it all your life. Even if you prefer to continue living in the same region, it can be tremendously enriching to burst out of your bubble and see other parts.
But, as you're probably aware, travel often isn't cheap. Whether it's gas, plane tickets or hotel rooms, the expenses of a well-traveled lifestyle add up fast. Never fear! With some smart budgeting practices, you can cut down on the expenses. Here are six tips for traveling on the cheap without sacrificing great experiences. (Note: Many of these suggestions depend on how the world's COVID-19 situation improves in the coming year, so always check local conditions before traveling.)
1. Decide on a cost-effective transportation method.
First, think about the most cost-effective method to get to where you're going. For example, there are a lot of advantages to traveling via motorcycle in America, and it's not just how cool it feels to roll through a dramatic landscape on the back of a Harley with your favorite music blasting in your motorcycle helmet speakers. You'll save a huge amount of money on gas, and with an investment in motorcycle camping gear, you can even have a pretty awesome camping trip.
Of course, the biker life isn't for everyone, especially if you're traveling with kids. The point is to keep all options on the table, including:
Driving your own vehicle
Renting a car
Flying
Taking a train or other public transportation
Consider the pros and cons of each transportation method and how each one fits into your budget.
2. Start with a budget.
Once you've decided on your transportation method, it's time to start thinking about what your overall budget for the trip will look like. Start with an amount of money that you can reasonably afford to spend and then take some time to work up a budget based on that.
Some items you'll need to include in your trip budget include:
Gas
Car rental (if you're renting)
Plane tickets (if you're flying)
Food
Lodging
Attractions you want to see
Emergency fund
The more you plan these items in advance, the more money you'll be able to save. Now, let's look at how you can start cutting down the cost of some of these items.
3. Cook your own meals when possible.
Eating every meal at a restaurant is one of the biggest wallet-killers on any trip, and you'll also likely end up consuming a lot more sugar and saturated fat than you would if you prepared your own meals. Instead, there are many different ways to tackle preparing your own meals on the road.
Meal prepping is a great option on shorter trips. Just pack a cooler full of sandwich essentials and fresh veggies that you can reach for when you're hungry. Most hotels will at least offer access to a microwave that you can use to reheat prepared meals like lasagna or pasta.
On longer trips, consider options like the classic combo of a camping stove and a cast iron pan. You can also seek out hotels that include kitchenettes, although they might not be available in every town or city.
Source: Karramba Production/Shutterstock
4. Seek out cost-effective attractions.
Some of the best experiences in the U.S. are also the ones that are inexpensive or free. Many of the major national parks, like Yellowstone and Yosemite, are under $50 per car for admission (although you'll still need to work out things like lodging and food). And if you pick up a National Parks Pass for $80, you'll get an all-you-can-see annual pass to America's greatest places.
If you're not headed for just one big attraction like a national park, put together a list of spots you want to hit. Then, go down the list and Google coupons for that attraction, or browse forums like Reddit to learn about people's experiences with that attraction and the most cost-effective ways to see it.
Finding stuff to do on the cheap can be tougher in a big city where restaurants, bars and shopping are part of the fun for many people. However, there are still options to be had. Most large cities have parks to visit, as well as architecturally significant buildings that are free to admire and observe.
5. Find ways to save on lodging.
Lodging is another big road trip expense that you can cut down with a little creativity. First, if you can stay with friends or family for free (without imposing too much), do that. Otherwise, you've got several options for lowering lodging costs.
Airbnb is always worth checking, although it can be nearly as expensive as hotels in popular destinations. If you're a big-time extrovert, Couchsurfing might be worth a try. Finally, camping at a campground can save you a ton of money compared to a hotel and provide an experience that's closer to nature in the bargain.
Another tip: Try to book your lodging as soon as you make plans for your trip, as hotels and Airbnbs are often much less expensive when reserved far in advance. The Internet is full to bursting with hotel price comparison sites, so spend a little time browsing and you'll likely be able to find something that suits you.
6. Take advantage of discounts.
Why pay full price when you don't have to? Wherever you're headed, look for discounts that can help you save money on the things you want to see, do and eat.
If you or your spouse has served in the U.S. military, your family probably qualifies for military discounts. First responders such as firefighters and EMS may also get a discount at many places, particularly restaurants. Senior discounts are another great option that you should be aware of if you're 60 or older.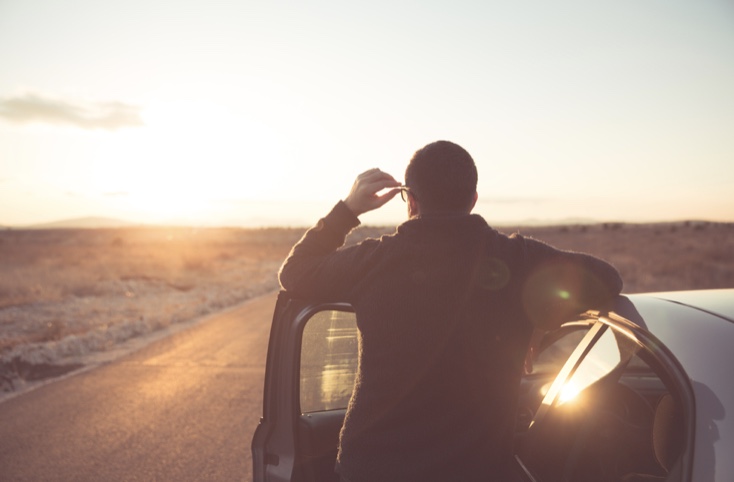 Source: eldar nurkovic/Shutterstock
A vacation you'll treasure for a lifetime doesn't have to mean one you'll spend a lifetime paying back. By following these tips, you'll help yourself save money while exploring the beautiful country around you.