| | |
| --- | --- |
| Real Name: | Lori Ann Brisson (Fieri) |
| Birthday: | May 21, 1973 |
| Net Worth: | $25 million |
| Height: | 167 cm |
| Occupation: | Celebrity Spouse of Guy Fieri |
Behind every successful man, there is a strong woman helping him out. Or in other words "a man's success has a lot to do with the kind of woman he chooses to have in his life". Well, we can say celebrity chef Guy Fiery found a good one. Lori Fieri might be just the woman behind him, but she is just as responsible for his success.
The two met in 1993 in a restaurant in Long Beach, California. They fell in love instantly. At the time, Lori went on a road trip across the country. She visited some friends in Long Beach, and that is how they met.
Life Journey
These two got married more than 25 years ago. They had their silver wedding anniversary. But when they met, they had "love at first fight". Guy ran a restaurant in Long Beach, and Lori came to it. Her friend got fired from the restaurant sometime before.
Guy tried to do some damage control with her friend. He tried to talk to her friend and tell her to wait a few weeks before she comes. Lori stood behind her and gave Guy a mean look.
She jumped to the defense, saying "you cannot make us leave". They finally agreed to let them in, but keep a low profile. Fun fact: Lori wanted to make it to San Diego during her road trip. But she never made it there.
Guy won over her and the two started dating. And of course, he won her over with his cooking. The first time he cooked for her, she replied "You made all this". Guy and Lori love food, so he cooks, and she serves as his first degustation filter.
Two years later, the two got married in 1995. She always appears together with Guy and encourages him during television specials. For example, she played a huge role in the making of Guy's Family Road Trip.
Born in 1973, Lori grew up in North Providence, Rhode Island. She grew up in a mid-class family. They weren't rich. But they were able to provide a decent education within local schools.
But Lori wanted more. She led an adventurous lifestyle during her young years. There is no info regarding her professional education and career. We just know she loves food as much as her husband. Lori spends most of her time supporting Guy. Shortly after their marriage, they welcomed their son Hunter Fieri. They have two sons together.
Lori helped Guy open his first restaurant on Carnival Cruise. Initially, he didn't love the idea. He says he is more of an outdoor guy and doesn't like big crowds. But Lori and his dad helped him realize the opportunity.
He started with a pop-up restaurant on one ship. He served 700 burgers in three hours for the opening of the restaurant. And after that success, he continued launching restaurants on Carnival's Cruise Ships. To this date, he launched 19 such restaurants.
Lori made another change in Guy's life. She is the one that changed the spelling of his name. Originally born Guy Ferry, but Lori encouraged him to change it to sound more American.
Guy is the face of the brand, but Lori is the one tying it all together. They work wonderfully as a team. The celebrity chef often says he values her opinion more than anything else. And she helped him come up with different ideas over the years.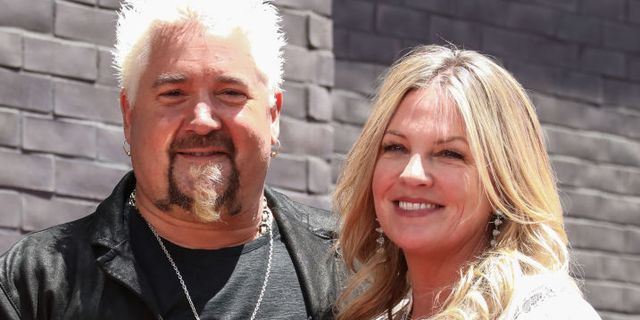 Net Worth
Lori Fieri fortune is tied to her husband's. Guy earns money through his chain of restaurants and celebrity cooking shows.
Guy started at the age of 10 selling soft pretzels from his stand, The Awesome Pretzel. Now, he has a chain of restaurants and many successful cooking shows behind him. He makes money from different Food Network shows, book deals, and special guest appearances.
Per estimates, Guy Fieri earns between $10,000 and $20,000 for each episode of Diners, Drive-Ins, and Dives.
Guy and Lori live together in Santa Rosa. The couple bought the home 15 years ago and tore it down. After that, they remodeled it to fit their taste, lifestyle, and preference. The house boasts 900 square foot kitchen that serves as his main office. The home also has a playland, four bedrooms, and three bathrooms.
Lori Fieri doesn't share much about her life. She keeps her Instagram profile private and has less than 100 followers. Her husband, on the other hand, has more than a million followers. Guy Fieri fortune is more than $25 million. A huge part of that is thanks to Lori. So, some might say that Lori Fieri fortune is also $25 million. But let's not go there.