Growing up in a generation without technology can make it difficult for seniors to keep up with the ever-evolving information and gadgets continuously being produced. While younger generations have grown up with technology always being easily accessible, seniors may sometimes struggle to keep up with the continued advancements.
These new technologies may leave those celebrating their golden years frustrated and confused by their constant changes. Some seniors may shy away from most technology. However, seniors can use technology to their advantage in many ways.
The tech world has many helpful tools, from Skyping relatives to searching for term life insurance rates for seniors online. While some extensive technology may be challenging to work with, various options can be highly accessible and available for seniors to help them stay connected and save money.
Search for a Simple Laptop or Tablet for Senior Accessibility
Accessing the web has many advantages, such as research, staying connected, and entertainment. For seniors, complicated laptops and tablets may be confusing and overwhelming.
Searching for a user-friendly and simplistic option can help seniors quickly access the internet. By having this access, they can perform a wide range of tasks. Many user-friendly options are available for seniors to enjoy their time on the web.
Many telehealth options are available online or through downloadable apps that can instantly connect seniors to health care providers. By using this technology, seniors can easily stay in contact with their doctors without needing to drive for an in-office appointment.
Skype or other video call apps are also easily accessible on a laptop or tablet. Seniors can use these apps or sites to call relatives or friends they may not see often. They may also simply want to talk to someone to keep them company. Although phones are excellent for staying in touch, seeing your loved one's face brings joy and excitement.
Seniors can use laptops or tablets for entertainment as well. There are various YouTube channels and games they may enjoy to pass the time. With the internet, seniors don't have to be limited to watching what is on television. They will be able to stream countless videos, TV shows, and fun games.
Smart Watches Can Help Seniors Stay Healthy and Connected
While many younger generations enjoy fitness-tracking watches to monitor their workout goals and daily activities, seniors can also benefit significantly from this technology. These watches can do much more than just track your exercise routine.
There are options available made with seniors specifically in mind. They are easy to operate and come with many features helpful to seniors' needs.
For seniors, these watches can be highly beneficial to their overall health. Not only will a reminder be sent if they are sitting too long, but they will also be able to track their movement throughout the day. Getting up and moving is essential to seniors' health, and these fitness trackers promote more activity.
On top of that, these watches can help seniors stay connected to their health care providers. The watch's features allow them to make reports if any drastic or sudden changes in seniors' movement levels are noted. Wellness checks can be called for, and seniors can have better peace of mind if they are home alone.
The technology of these senior-focused fitness trackers will continue to improve as time goes on, offering seniors better connections to their doctors and quicker assistance in an emergency.
Downloadable Apps Help Seniors Easily Connect and Save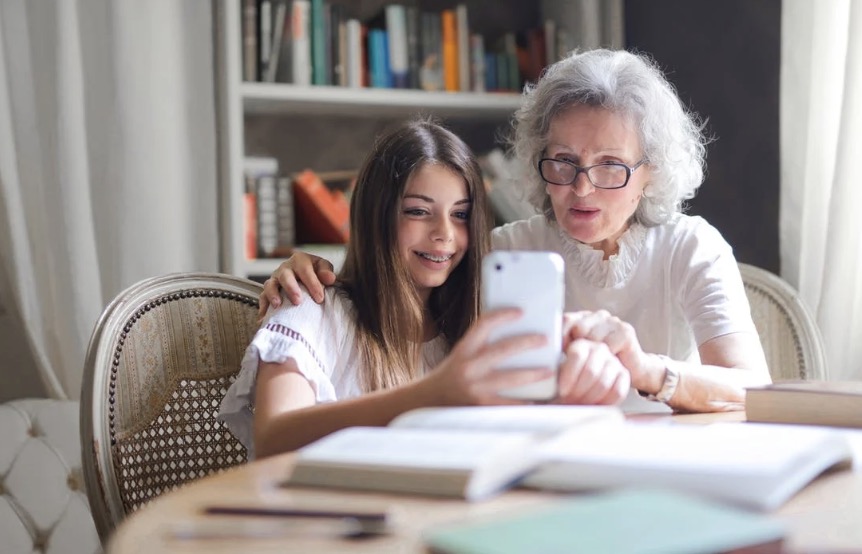 Adding apps to smartphones or tablets is relatively easy, and many apps are beneficial for seniors to use.
Prescription Apps Help Save Seniors Money on Medication
Seniors can save money on their monthly medications by using smartphones or tablets to download money-saving prescription apps. Some medicines may not be covered under health insurance, leaving seniors with a considerable out-of-pocket expense each month.
Rather than paying full price, these prescription apps offer coupon codes and discounts that they can use at the pharmacy. These apps often display different pharmacies, their distance, and the medication price with the applied coupon code.
Seniors can easily choose which pharmacy is closest and offers the best price, and with the touch of a screen, submit their request for their prescription to be filled.
Seniors Can Use Rideshare Apps to Stay Connected
There may come a time when seniors are unable to drive. This could be for various reasons, but the end result can still be very upsetting. Not being able to drive takes away many freedoms and may limit seniors' connections with others.
Rideshare apps are easily accessible for seniors on their tablets or smartphones. By downloading any rideshare option, seniors can request a driver to come and pick them up from their current location. Then, a rideshare driver will take them to their desired destination.
Using rideshare apps can greatly improve seniors' abilities to stay connected with friends and family by allowing them an easy way to visit them.
For older adults who are still able to drive, utilizing the internet can save a lot of time and money by comparing quotes online to find the best car insurance for senior drivers.
Budgeting Apps Allow Seniors to Track Finances
Many seniors may live on a fixed income, meaning their monthly expenses are essential to keep track of. Downloading a budgeting app can help seniors easily keep track of all their finances in one convenient place.
These apps are designed to include all financial aspects seniors may need. They can enter their income, monthly bills or payments, and other frequently purchased items.
By keeping track of all expenses and income, seniors can easily ensure they are not overspending. They may even find some costs that they can remove to save them money over time.
Using Technology to Help Seniors Stay Connected and Save
While technology may often feel overwhelming to seniors, it doesn't have to be. There are many user-friendly gadgets available for seniors to use and benefit from.
Using technology like laptops, tablets, and smartwatches allows seniors to stay connected to their loved ones, monitor their health, and even find entertainment. Seniors can also utilize many apps such as prescription apps, rideshare apps, and budgeting apps.
By getting the most out of technology, seniors can improve their relationships, finances, and overall health.
Alexandra Arcand writes and researches for the life insurance comparison site, LifeInsurancePost.com. She is an avid technology user who enjoys sharing ways everyone can take advantage of its benefits.