In recent years, pearl jewelry has experienced a remarkable resurgence in popularity. In fact, the global pearl jewelry market was valued at $12.8 billion in 2021 and is projected to reach $42 billion by 2031. Once associated with traditional and classic looks, pearls have now been rediscovered for their versatility and sophistication.
Today, fashion-forward individuals are incorporating pearls into their everyday outfits, adding a touch of refinement to even the most casual ensembles. Whether it's a simple strand of pearls paired with jeans and a t-shirt, or a statement pearl necklace adorning an elegant evening gown, pearls have become a go-to choice for those seeking to elevate their style.
The versatility of pearls lies in their ability to effortlessly transition from day to night, from the office to social gatherings. Their understated beauty complements any outfit without overpowering it, making them suitable for various occasions.
In the article below, we share some helpful tips on how to wear and care for these precious gems.
When and Where to Wear Pearls
Earrings, stunning pearl necklaces, rings, and even bracelets come in many different shapes, colors, and designs. Pearls are a versatile accessory that can be worn as a statement piece or as if it were a subtle addition to any wardrobe. For instance, pearl necklaces can make a huge difference to your appearance, whether you wear them to complete your everyday look or elevate your evening style at a formal event.
The best thing about these precious gems is that you have plenty of options to wear them according to the occasion.
Daytime:

When you're heading to work and the dress code at the office is business casual or less, a single pearl strand that falls on the collarbone is appropriate. A pearl bracelet would also be suitable. When you want to break away from the norm, bigger pearls will make a statement. Pearls are a great accent for this time of the day, but they should not overpower your outfit.

Casual:

A dainty pair of pearl stud earrings or an elegant one-strand pendant can elevate your everyday wear, or the jeans and plain tee you wear on weekend outings with friends. 

Formal Wear:

Black-tie and more formal events call for the finest jewelry. Multi-strand necklaces and matching bracelets are perfect for black-tie events, provided the pearls you choose match your outfit. Make sure to coordinate your jewelry so that your outfit doesn't contain too many visual elements. If you're going to the opera, for instance, choose statement pieces like multi-layered necklaces, large pears, and oversized pendants. 

With Other Jewelry:

Unless you're wearing a bright or dark yellow shade, pearls present a neutral base for other jewelry. Rubies and sapphires are saturated colors that pop off this base. If you want to incorporate more than one stone, use the same metal on all the pieces so that you can create consistency.  
Choose The Right Size, Color, and Length To Suit Your Skin Tone and Body Type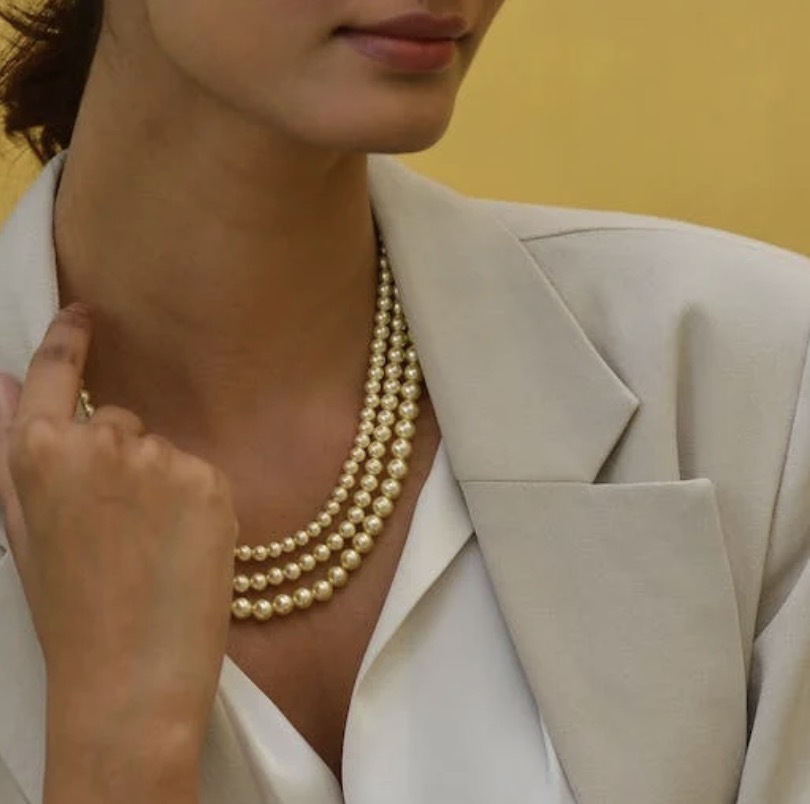 The right color for your skin tone should be a consideration in every fashion decision you make. Your skin tone will determine the color of the fabric you choose. To update your style with pearls, it's important to remember that pale skin goes well with rosy shades, while darker skin looks great with creams or golden tones. The pure white pearls look great with any skin color and can add a contemporary and chic feel to your outfit.
In addition, choose pearls that flatter your body type. For example, a choker pearl pendant is better for tall women who have a slim build. To create a slimmer silhouette, women with larger frames should opt for pearls that are bigger and longer. Princess-length pearls, which are available in lengths between 42 and 45 cm, make a versatile accessory because they suit most occasions.
Pearl Maintenance
The mother of pearl is made up of many thin layers. The organic material "conchine" holds these layers together. The conchine in a pearl can dry out if it's exposed to high temperatures for an extended period, and can negatively affect its color and luster. Store your pearls at a moderate temperature (outside of direct sunlight), and avoid wearing them while you're sunbathing.
Chemicals can affect the surface of a pearl. Be careful of chlorine in swimming pools and cleaning products. Cosmetics, perfume, and even perspiration itself can cause damage to the pearls' layer.
Put your pearls on after you've bathed, used hairspray, and perfume, and applied your makeup, and wipe the pearls clean after wearing them, especially pearl necklaces. If necessary, clean them with some alcohol. This will remove dirt and skin oils. Put your pearls back in their original jewelry box. Never store pearls with other pieces of jewelry to prevent scratches.
In Closing
Ask any fashion designer or stylist and they'll say that, with the right knowledge and etiquette, pearls can be a wonderful addition to any woman's wardrobe. Understanding pearl etiquette plays a significant role in showcasing your appreciation for these exquisite gemstones. By following these styling tips, and caring for your pearls, you'll not only enhance their beauty but also demonstrate an understanding of timeless elegance in any social setting.