| | |
| --- | --- |
| Real Name: | Randi Martin Mahomes |
| Birthday: | June 25, 1976 |
| Net Worth: | $200,000 |
| Height: | 176 cm |
| Occupation: | Celebrity mother of Patrick Mahomes |
Some people are famous because of their careers. Others are famous because of their spouse. Some are even famous just because they are famous, like Kim Kardashian. And then there are those famous parents and famous children. Randi Martin is Patrick Mahomes's mother. Patrick made his parents famous.
Randi lived a life in the sports world. Before her son got famous, she got married to a famous Major League Baseball player. She lives a lavish lifestyle enriched with fame. There are no details on her income. And we do not know the exact Randi Martin fortune.
Career Journey and Life
Born in 1976, Randi got married to Pat Mahomes in the late 1990s. She gave birth to Patrick on September 17, 1995. There is not much information on her relationship with others. Randi remains close to her son as always. Even though he entered superstardom, Patrick still considers his mother one of his biggest and best friends and supporters.
Randi often says in the media that Patrick is a blessing. She praises his responsibility and how he takes care of his siblings. Most importantly, Randi is protective of her children. That is why she hates when people make fun of Patrick's voice.
She fell in love with Pat Mahomes, an MLB player in the early 1990s. Soon afterward they walked down the aisle. After a couple of years in marriage, Randi and Pat got a divorce in 2006. But they do have a mutual understanding of their son. Randi has two other children, Jackson and Mia. She continues to raise them all as a single mother.
Both Randi and Pat Mahomes Senior played a major influence and role in Patrick Mahomes's life and athletic career. When he was young, she encouraged him to pay attention to the academic side of things. She reminded him that "student" comes first before "athlete".
After the divorce from Pat Mahomes, Randi started living as a single mother. She got a full-time job as a single mother. She found support in the church. She took daytime and night shifts at the Hollytree Country Club in Tyler. Randi started as a receptionist and then worked her way up to the events director. For 15 years and counting, she works at the club.
As her children grow, Randi prioritized Church. She trusted God to fill in the gaps she couldn't. Every Sunday, she took her children to Church. Her concept was simple, "If I cannot teach my kids, maybe they will hear something at church that will drive them in the right direction". She made sure God served as their foundation.
Patrick didn't love going to the church. And Randi resigned herself to force him to attend. The two still share a very close relationship. Before the divorce, her only job was Pat's wife. And now, many people recognize her as Patrick's mother. And there are fewer and fewer places where she feels as Randi. And the Church is one of them. For her, the Church is a safe place.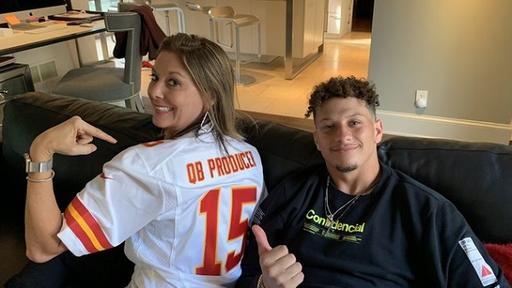 Net Worth
Randi Martin is the mother of popular NFL player Patrick Mahomes. He recently signed the biggest contract in sports history, a 10-years, $450 million contract. But Randi Martin fortune is just over $200,000. Her son's wealth is over $12 million.
And his value will continue to increase in the coming years. Randi lives in a $1.9 million mansion in Kansas City. There, she raises her two sons and daughter. Patrick bought the house in early 2019.