Let's face it, in today's day and age of technology, it seems like every day, some new and exciting product is set to revolutionize its respective industry, but how many of these products actually do what they promise and literally "change the game?"
One industry, in particular, that is continually changing is cycling. Now, when I talk about cycling, I'm talking about more than just road cyclists with expensive bikes and skin-tight lycra. Cycling also includes bike commuters, bike couriers, mountain bikers, delivery riders, stationary bike, and even those who ride for a bit of fun.
The cycling industry is one of those ever-changing, fast-paced industries with consumers itching for the next technological advancement. One such area where bike riders face problems is their phones running out of battery on long rides.
Many cyclists and bike commuters use third-party apps like Strava, Komoot, and Wahoo to track ride data like distance, time, speed, cadence, calories burned, and even meters climbed. Now while these apps offer riders detailed metrics and data, they also drain your phone battery in no time.
Enter StrideCharge, an exciting new company that has set out to revolutionize the wireless charging game. According to a representative at StrideCharge, "our team are all longtime passionate cyclists and have long had to deal with the problem of running out of battery. That's why we designed and developed a bike phone mount and charging case that allows riders to ride for as long as they want without worrying about running out of battery again."
The StrideCharge case, though, is much much more than a charging case for cyclists. It's the ideal wireless charging companion for any number of outdoor activities like:
Hiking and trail running
Golf
Fishing
Strollers
Picnics with friends and family
Camping and Bike packing
Simply slip your phone into the slim and stylish charging case, and you've effectively doubled the time you can use your phone. Not only does it mean you don't need to carry heavy battery banks, but the phone charging case could also be a lifesaver in a dangerous situation.
The StrideCharge Charging Case takes advantage of its innovative patent-pending design to deliver a simple and effective wireless charging experience. No cords are required to charge your phone, simply press the button on the back of the Charging Case to start charging your phone.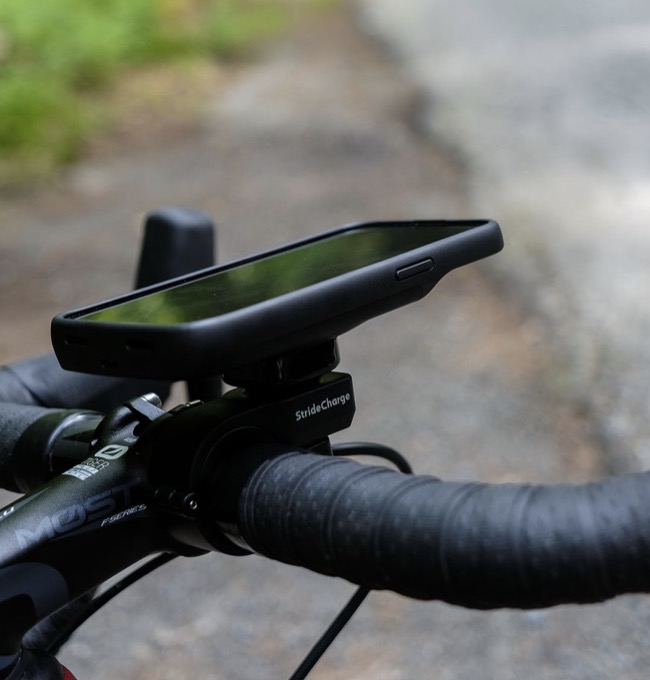 The Bike Mount has been designed with style and durability in mind, and amazingly the team at StrideCharge seemed to have pulled it off. High-grade materials were selected for their shock-absorbing and superior strength qualities. The case is robust and durable yet elegant and sleek; a combination hard to find in other similar bike mounts and charging cases.
The StrideCharge is one of the very rare products that not only does what it promises but does it while looking good. The team has taken an innovative yet simple step and solved one of the most frustrating parts of riding a bike; keeping your phone charged.
No tools are required to assemble and attach the bike mount to the handlebars of your bike; as a matter of fact, you can set up and charge your phone in 3 simple steps.
Step 1, connect your durable, easy-to-install Stride Bike Mount to your handlebars. No tools are needed. Step 2, slide your phone in to the StrideCharge Charge Case and attach it to your Stride Bike Mount with a simple turn to "lock it into place". Step 3, start charging your phone wirelessly with the push of a button. Enjoy your music and favorite fitness apps while you ride.
Something tells me that you'll be hearing a lot more from this exciting new company that is already taking the cycling industry by storm. It's not often you come across a product that has been "designed by cyclists for cyclists," but that's exactly what you get with the team at StrideCharge and every one of their products.
Remember, you don't need to ride a bike to enjoy the advantages of wireless charging. The phone charging case is slim and fits easily into your pocket or bag for convenience and peace of mind anywhere you go.
So whether you're riding the Tour de France or hiking with friends, the StrideCharge phone case is your ideal charging buddy.
Be sure to check out StrideCharge at their Official Website and Instagram