In the past, home styles were a matter of necessity. Builders would construct houses using local materials and known methods.
These days, things are different. Homeowners can essentially choose their home style. It is no longer a geographic imperative, but rather a conscious decision. If you want your home to look like it belongs in the Mediterranean or beside a Scandinavian fjord, you can.
In this post, we take a look at the most popular home styles and rank them. While there isn't one best home theme that will be everyone's favourite, there are certainly some that are more appealing than others.
Cape Cod Homes
If you love blue slate and hardwood floors, you'll love Cape Cod homes. These homes, as you might imagine, originated in New England and were immensely popular throughout the 1930s. Everyone wanted to live in one. However, the roots of the style go back to the very earliest days of European settlement in the Americas, with some Cape Cod examples having been around since the 1670s.
In the early days, Cape Cod homes were modest. Yes, they have dormer windows for the extra ventilation, but they weren't sizeable abodes. People couldn't afford them.
Now modern home builders are offering homes with floor plans in excess of 4,000 square feet. Cape Cod homes typically have wooden siding and simple entrances, though this is changing somewhat over time.
Cape Cod homes tend to be relatively easy to modify and extend. Many feature a main building with an attached annex of the same style.
French-Style Country Home
If you've ever been to France, you'll immediately notice the French home style. It's unmistakable. Throughout small villages across the country, there are houses that feature tall pitched roofs and round-topped dormers.
Because of immigration from France in the 18th and 19th centuries, French-style homes came to America. The French emulated their historical building style whenever they set up their homes. France once occupied a vast swath of North America, particularly around the Great Lakes and the Mississippi valley. During the time before Thomas Jefferson, much of America looked like a little France, with some striking examples of French buildings surviving to this day.
Country-style French homes often have narrow dormer windows and shutters. Stucco walls are common, as are half-timbered frames. These types of homes tend to be among the most attractive on the market and, often, sell at a premium.
Colonial Style Homes
Colonial style homes usually have two or three stories and white exterior cladding with grey roofs. In many examples, the foundation is made of brick, with the rest of the building made of wood. Most have plantation-style shutters either side of the main windows. And some feature attractive dormers on the top floor.
Extending colonial-style homes is generally easy. Furthermore, using original materials isn't always necessary. If you want to upgrade the appearance of the home, then you can use reproduction colonial materials, something that most hardware stores now stock.
Victorian Homes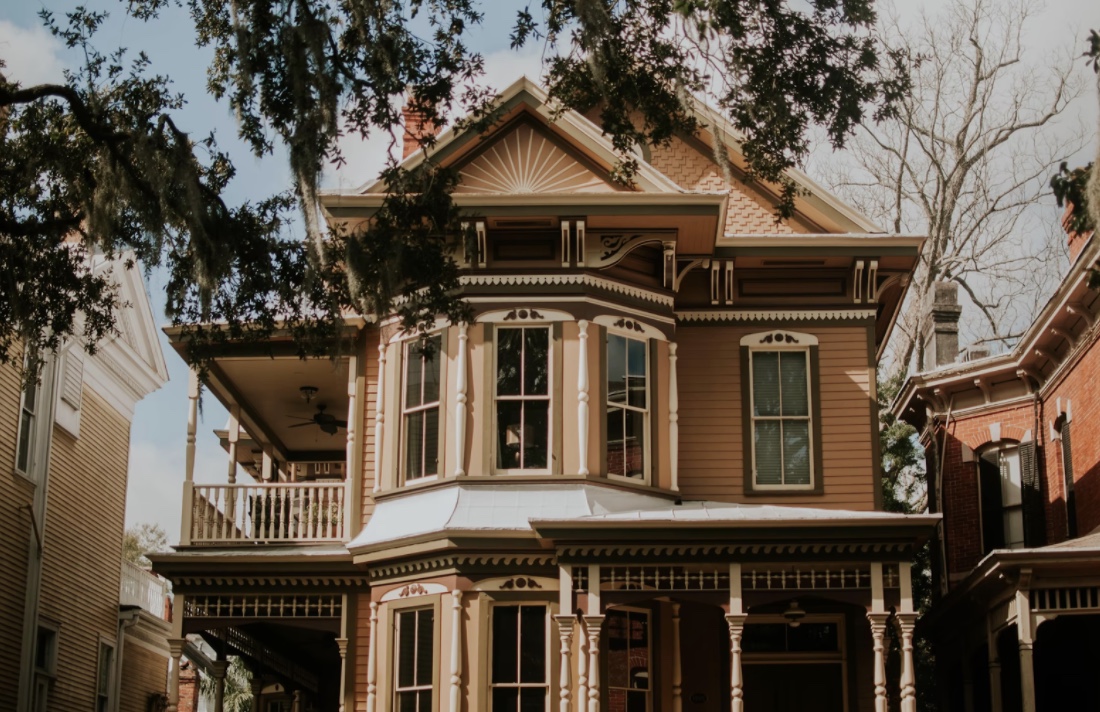 Britain is full of Victorian homes. These tend to have a particular style, with most being built between 1860 and 1900.
These homes tend to have a romantic character. They have a distinctive style and aren't afraid to play with colors and textures. They are found in many older towns and cities across the country, but they are quite rare in places that have grown since the 1900.
Walking inside a Victorian home feels like stepping into the past. The fittings are often traditional or antique, directly borrowed from the nineteenth century.
In terms of specific features, Victorian homes have a dominant front-facing gable and steeply-pitched roofs. Many also have a flat top section, balconies above the porch, bay windows and some sort of asymmetry in the facade.
Tudor Style Homes
Tudor style homes hark back to the Tudor dynasty that dominated England during the sixteenth century. Genuine historical versions of these homes do exist, but they are exceedingly rare. The vast majority are modern reproductions that attempt to capture the style.
What's more, modern architects take liberties. They embellish the original Tudor ideas and bring them up to standard so that they are suitable for contemporary homeowners.
Modern tudor-style homes tend to have steeply-pitched roofs, decorative half-timbered facades, brickwork, stonework, cross-gables and narrow windows with small window panes.
Cottage Style
Those looking for something a little more low-key might want to opt for a cottage-style home. This style became popular during the 1920s and 1930s and still remains a good choice to this day. The goal was to create a charming and cozy cottage that was reminiscent of the old world. It is popular among people who want a quiet life and don't want to make any show of their homes.
Cottage homes have cross gables and casement windows. In many cases they also have stucco, brick or stone siding and arched doors. Many are welcoming pastel shades, such as green, pink or cedar.
Craftsman Homes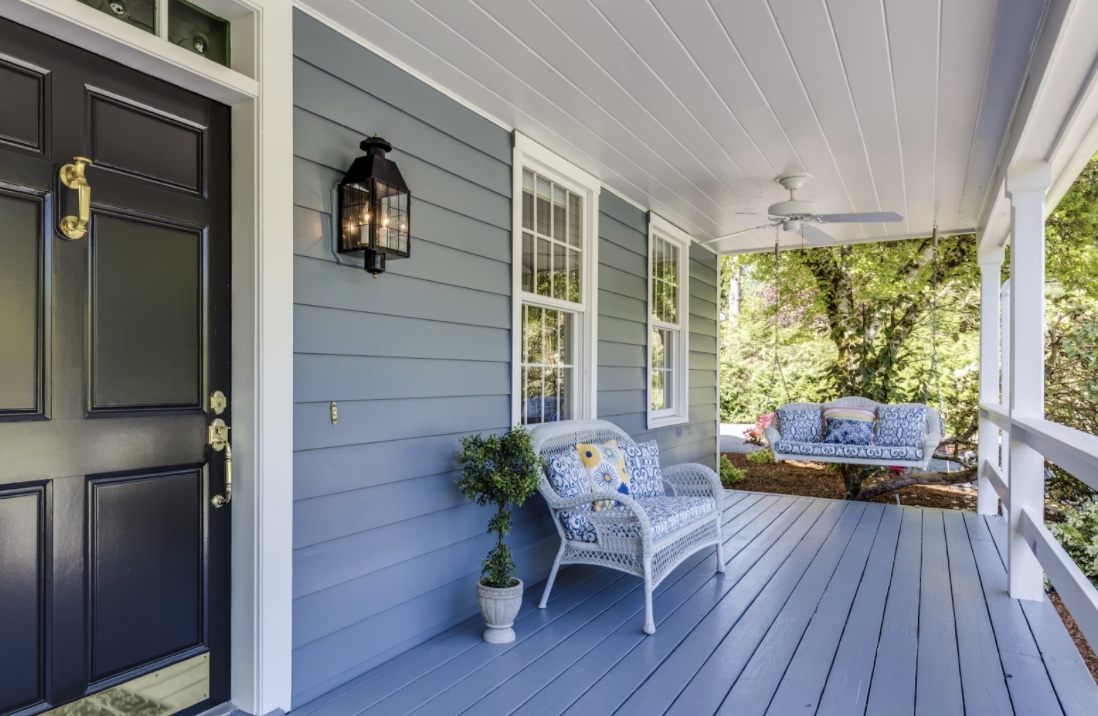 Between 1905 and 1930, craftsman homes were popular. They emerged from the arts and crafts movement and are still popular today.
Again, like cottage-style homes, they're low-key and don't make any show of themselves. They feature extensive interior and exterior woodwork, giving them a natural feel, whether you are inside or outside. They also offer built-in shelving and seating – virtually unique among all home styles.
Most craftsman houses are bungalows. Many have low-pitched roofs with sections that extend beyond the walls of the home to provide a veranda. Craftsman homes typically sit by themselves separate from other homes on the street. Most are detached.
Architects put considerable thought into porches, often demarcating them with substantial columns that frame the door. Decorative beans, branches and stone driveways are also common features.
Mediterranean Homes
California's climate is similar to that of the Mediterranean. It is relatively dry, warm year-round and gets plenty of sunshine. What's more, it has a lot of Spanish influence. No wonder, then, it is an area rife with Mediterranean-style homes.
This type of home style came to prominence during the 1920s and 1930s. People wanted homes that looked like Spanish farmhouses. They typically have low-pitched roofs and a adobe or stucco exterior. The courtyard is typically an extension of the living space. There is a central courtyard with a fountain. And there are plenty of open spaces to enable cross ventilation in hot weather.
Most Mediterranean homes are single-storey, in keeping with the original design. They also tend to be quite sprawling and don't follow conventional home plans.
Ranch Homes
If you're after a combination of simplicity and space, then ranch-style homes could be right up your street. These typically have simple floor plans and arrange all rooms in a box-shaped footprint.
The style first emerged in the 1930s and has been popular ever since. Ranch-style homeowners are looking for easy-to-manage properties that don't require a lot of maintenance. Their design appears generic on the outside, but they offer plenty of opportunities for customization on the inside. They are also relatively easy to upgrade.
Contemporary Homes
During the 1950s and onwards, architects started to worry that they had exhausted practically all home designs. Thus, they started to play with the idea of creating contemporary homes that wouldn't borrow style cues from the past. The result was a group of homes that reflected the dynamism and optimism of the post-WWII world.
Contemporary homes did things differently. They were open-plan and many featured large glass facades instead of conventional windows. They dropped much unnecessary detailing and focused on functionality instead.