The deep v neckline is a staple in any stylish wardrobe – and for good reason. It's a tried and tested silhouette that flatters everyone beautifully and upgrades the contours of any kind of evening or day dress amazingly. Plus, it leaves plenty of negative space for creative layering, stacks of statement necklaces or just letting a delicate piece of dainty jewellery shine. Here are a few stunning plunging neckline dresses and styling ideas to spark your inspiration on your next hunt for your wardrobe's next big thing…
The cut out plunge
Unexpected cut out details are one of the best ways to amp up the impact of a plunging neckline! Secure a dress that does all the styling work for you by looking for an intricate cut out style that pulls the focus to your neckline detail. Just make sure the skirt component of your silhouette is nice and simple to avoid overpowering your overall look. Keep accessories to a minimum to let your statement style shine all on its own.
V-neck set
Sometimes, a set is the very best option. Not only will it take you to your next big event, but it's also going to help you out with a little mix and match styling when you want to switch things up. Wear your low neckline set together for a coordinated and seamless feel or pair with denim, contrasting colours and other prints to add some life and endless potential to your wardrobe. This one is a great investment if you're looking for maximum wearability, wherever it is that you're heading.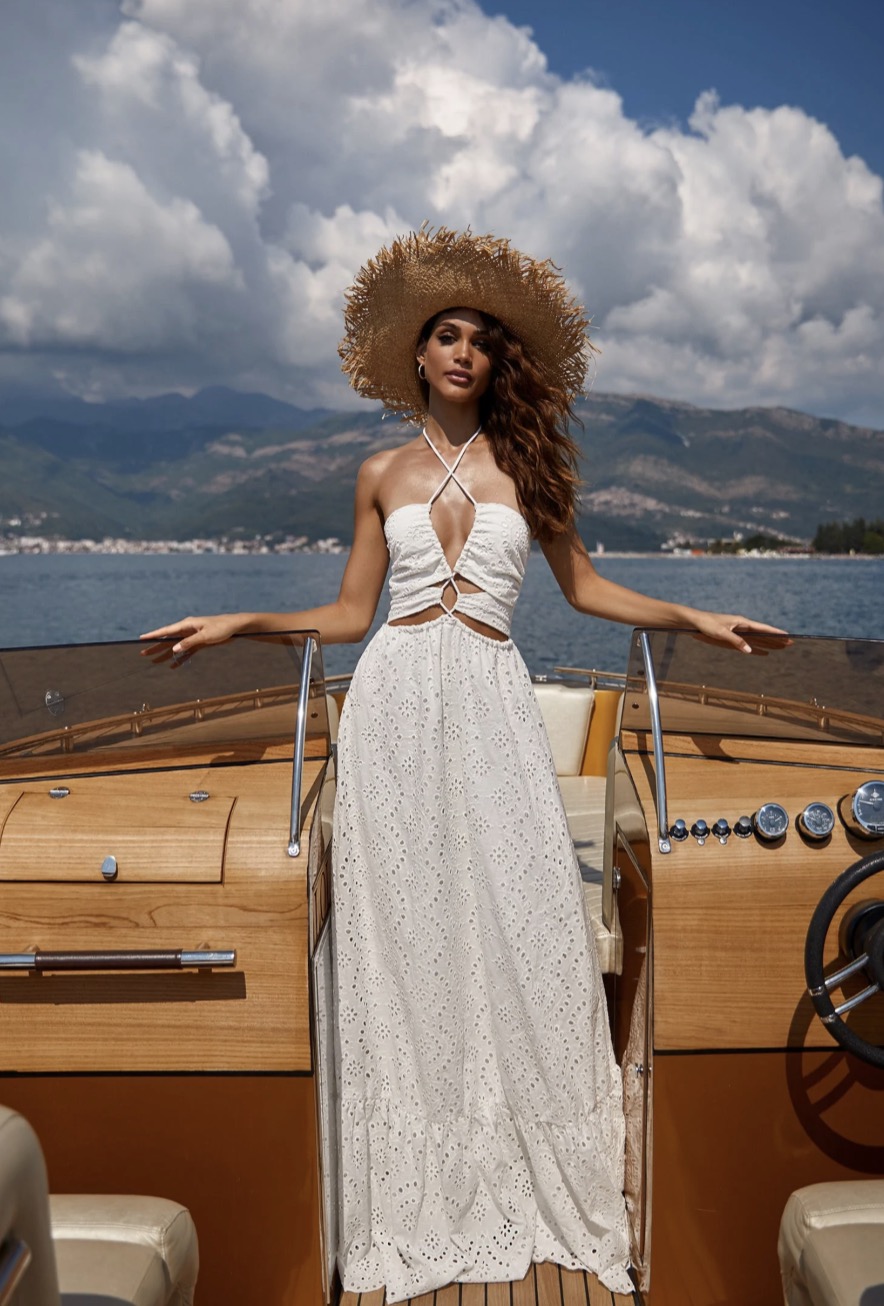 Image: Alamour The Label
Relaxed and romantic
A deep v neckline can really accent a more loose, relaxed dress to create a romantic impression. Hunt for a delicate floral print in a nuanced neutral or gentle pastel tone like dove grey or mint green to stick with the laid back yet stylish feel of the piece. Pair with slides, sandals or wedges for a brilliant option that can take you from day to night.
Statement shoulders
One of the beauties of a v-neck dress is that it leaves ample opportunities to level up the other areas of your silhouette. Accenting your shoulders and neckline with statement features is going to play up the simplicity of your neckline while also creating a cool and eye-catching impression for your overall ensemble. Look for tie up, ruffle or off the shoulder details to make a statement of your shoulders and to contrast with your plunging deep v.
90s halter neck
Low necklines can be amped up even more with a 90s halter neck detail. These thin trim strap elements carve out the structure of your plunging neckline even more while adding an on-trend nod to everyone's favourite fashion era. Pull your hair back to avoid overcomplicating the creative and layered take on the low neckline.
Keep it classic
Lastly, sometimes less can be more. Look for a simple, structured low neck dress in a classic tone like cream, white or black and let the feminine simplicity of this shape glow.