When it comes to accessorizing your outfit, it can often be fun to experiment with wristwear. There are lots of different styles of wristwear to choose from. The following guide lists 8 different types, as well as when and how to wear them.
Wristwatches
Wristwatches were invented to help us tell the time while on the go. Now that our cell phones display the time, they're largely a fashion accessory. Watches come in all different styles suitable for all different occasions. Many professionals wear watches to work as they tend to give off a sense of being organized.
When choosing a style of watch there are lots of factors to consider. Will it be analog, digital or a hybrid of the two? Will the strap be a metal chain link, leather or another material? On top of getting the style right, it's important that you get the perfect watch fit. There's also the debate as to which wrist to wear it on (it's typically the wrist of your non-dominant hand, which is left for most people, however you don't have to wear it on your left).
Smartwatches
Smartwatches do more than tell the time. They contain a digital screen and offer various computer features. The likes of the Fitbit is typically used to track fitness performance such as being able to monitor your heart rate and steps. Others such as the Apple watch can do practically everything your smartphone can from receiving calls to streaming music.
On top of their practical benefits, smartwatches can be a great fashion accessory for showing that you're modern and tech-savvy. Styles are more limited than traditional watches, although there are still quite a few different brands and models to choose from.
Bangles
Bangles are solid bracelets made of metal, wood, glass or plastic. These wrist accessories have been worn for centuries and some styles have cultural or religious symbolism (such as the Sikh 'kara'). Others are simply a fashion statement.
You can wear a single bangle or multiple bangles. You can also pair them with other bracelets and even watches. For formal occasions, it's best to stick to metal or wood bangles. Brightly colored plastic bangles are typically a little more informal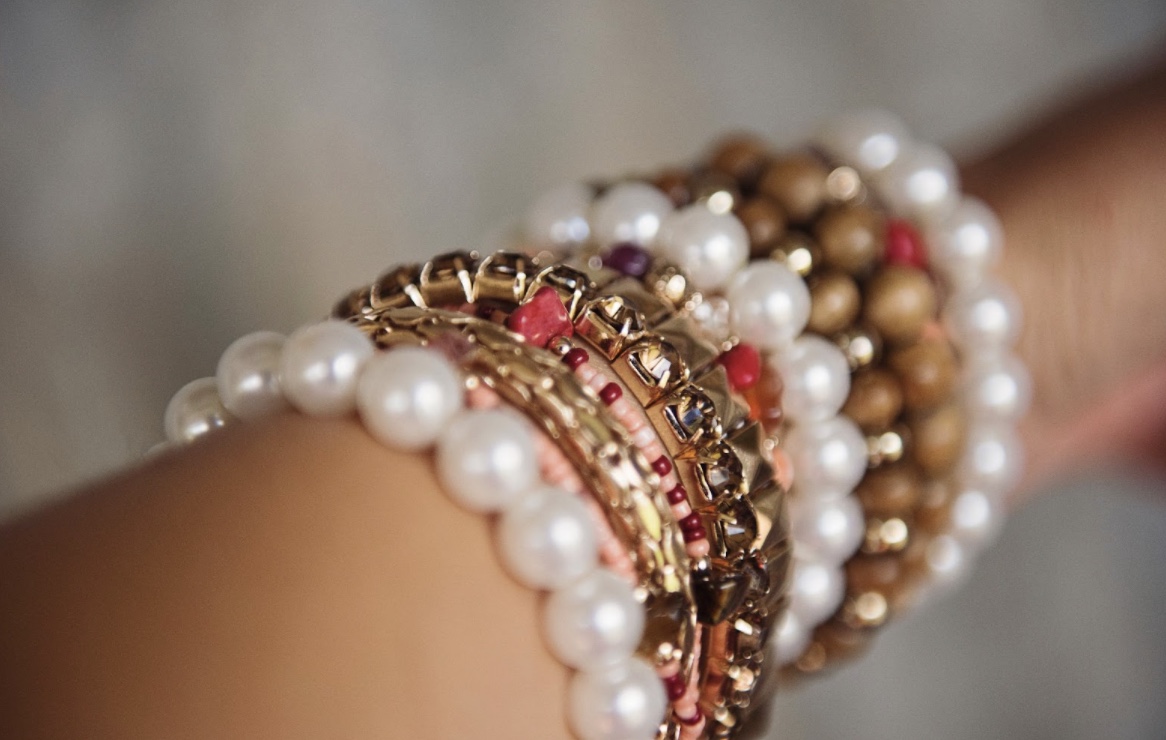 Bead bracelets
Bead bracelets consist of beads on a string. They're typically worn as a fashion statement, although may have a spiritual purpose for some people (sometimes known as healing beads).
Bead bracelets can be worn on their own or they can be stacked with other bracelets like bangles. You can stick to one color of bead or incorporate different bead colors. It's even possible to incorporate birthstones or precious stones (pearl bracelets are typically worn for more classy and formal events). One of the biggest perks of these bracelets is that it's very easy to make your own, allowing you to choose your own beads – there are bead kits you can buy to do this.
Chain bracelets
Chain bracelets consist of a metal or plastic chain. They go well with most outfits and typically suit most occasions making them a versatile choice.
When it comes to metal bracelets, you can choose from a variety of metals from steel to gold. Most chain bracelets are thin and are made up of small links, however you can also buy chunky chain bracelets (these may have a slightly more informal feel).
Gel bracelets
Gel bracelets are made from an elasticated plastic such as silicone. They typically display text and in the past have commonly been used to show support for charitable causes or brands. Livestrong is a popular example of such bracelets, although it has fallen out of popularity.
These bracelets are often worn in sports settings because they're unlikely to catch or snag like other bracelets, although many people wear them casually too. They tend to be quite informal, although it depends very much on what is on the bracelet.
Charm bracelets
These bracelets are similar to bead bracelets, but are made up of small shapes and keepsakes called 'charms'. They are typically a fashion accessory, although certain charms may have sentimental value.
You can buy bracelets with charms already on them, or you can customize them with your own charms. These could be charms that you buy, or charms that you make or find yourself. Charm bracelets typically have a less formal feel to them than some other bracelets.
Cuff bracelets
A cuff bracelet is a statement bracelet. These bracelets are solid like a bangle but much larger and chunkier. They are typically made from metal or leather.
Cuff bracelets look great when contrasted with a simple outfit – you ideally don't want to wear them with too many other accessories or different textures. That said you may be able to get away with pairing them with another single statement accessory such as bold shoes, a large belt buckle or showy necklace.